Oct 3, 2023 at 8:30 AM Update: an hour ago
The Dutch volleyball players lost their third match of the Olympic qualifying tournament (OKT) in Xi'an, China on Tuesday. The team of national coach Roberto Piazza lost 3-0 to Belgium.
The Dutch team, number ten in the world, was behind the times from the start. Belgium, the global number 24, eventually won with clear numbers: 25-22, 25-19 and 25-15.
The Netherlands already lost the first group match 3-2 to Canada on Saturday. Piazza's formation recovered on Sunday against Mexico with a resounding 3-0 victory.
Due to the heavy defeat against Belgium, the volleyball players lose sight of a direct ticket for the Olympic Games. Only the best two countries in the group qualify for the tournament in Paris. The Netherlands is currently fifth in a group of eight teams.
Volleyball players will play four more matches
The Dutch team will play against Bulgaria (Wednesday), China (Friday), Poland (Saturday) and Argentina (Sunday) at the OKT. The volleyball players can also qualify for the Games based on the world rankings.
The Dutch men won the Olympic title in Atlanta in 1996, but then fell far behind. The men last participated in the Games in 2004 in Athens.
The Oranje women's team recently failed to finish among the first two countries in the group at the OKT. The team of national coach Felix Koslowski is now dependent on the position in the world rankings in June next year.
This way the volleyball players can qualify for the Games
Twelve countries are allowed to participate in the Olympic Games. France has already been placed as the host country. Six teams qualify via the OKT. The tournament in China (September 30-October 9) consists of three groups of eight countries. The top two in each group receive an Olympic ticket. The remaining five tickets will be distributed based on the world rankings. This will be drawn up in June 2024, after the group stage of the Nations League. First, we look at the high-ranking countries per continent that do not yet have a ticket. Once all continents are represented, the highest-ranking countries receive the remaining tickets. The Netherlands is now tenth.
01 Oct 2023 at 08:36
Volleyball players record first victory against Mexico in the hunt for an Olympic ticket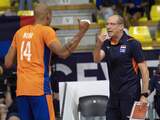 Sep 30, 2023 at 10:08 am
Volleyball players Oranje experience false start of OKT with loss against Canada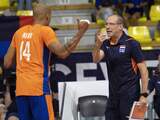 Beeld: Getty Images
Read more about:
VolleyballVolleyball playersOlympic Games
---
---