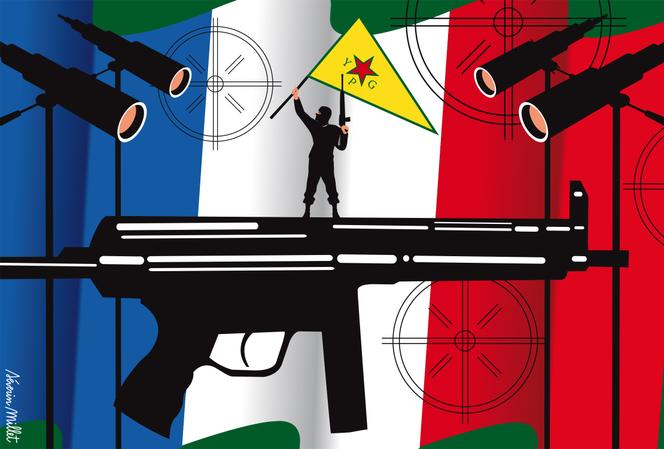 SEVERIN MILLET
At the center of the trial for ultra-left terrorism which opens on Tuesday October 3 in Paris – the first since Direct Action in the mid-1990s – is the figure of Florian D. This man, now aged 39 years old, is presented as the leader of the "terrorist criminal association" for which seven people are referred to the 16th correctional chamber. They all face up to ten years in prison.
The trajectory of Florian D. is at the origin of the file. It was by monitoring it that the General Directorate of Internal Security (DGSI), the anti-terrorism and counter-espionage service, established an alert note, in February 2020, for the attention of the National Anti-Terrorism Prosecutor's Office (PNAT) on its supposed desire to form "a violent group" whose members would adopt "clandestine behavior" with the aim of "committing guerrilla actions and violent actions against institutional targets".
Florian D. is one of around twenty French people who went to Syria to fight the Islamic State organization alongside the Kurdish People's Protection Units (YPG), grouped into the Syrian Democratic Forces. There are diverse profiles: Catholic right, former soldiers, anarchist or leftist activists. Florian D. belongs to this last category. In addition to the fight against the jihadists of Daesh (Arabic acronym for the Islamic State organization), he is attracted by the Kurdish experience of "communalism" carried out in Rojava (the Kurdish name for Syrian Kurdistan), a model based on autonomy of self-managed local citizen cells respecting gender parity, ecology and equitable sharing of resources.
Hesitation
In this policy of "monitoring" the Rojava fighters, the anarcho-leftist movement seems to have been the subject of more particular attention from the intelligence services. Thus, André Hébert, who belongs to this movement, returned to France in 2016 after a first stay in Syria. When he wanted to leave, he was informed that his passport and identity card had been withdrawn under the 2014 Cazeneuve law aimed at preventing the departure of jihadists to combat zones.
Also read the story: Article reserved for our subscribers "Case of December 8, 2020": a trial for ultra-left terrorism on fragile foundations
André Hébert, through his lawyer, Me Raphaël Kempf, who today defends Florian D. with Me Coline Bouillon, then contests this decision before the administrative court. During the debate at the hearing, two questions arise: is fighting with the Kurds terrorist? Is returning to France after fighting with the Kurds a potential disturbance to public order? In a decision dated March 31, 2017, the Paris administrative court answered both questions in the negative. André Hébert was able to recover his papers and return to Syria.
You have 53.28% of this article left to read. The rest is reserved for subscribers.
---
---