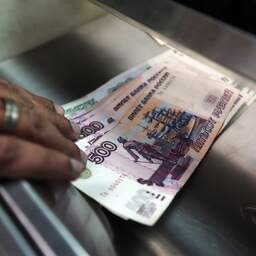 03 Oct 2023 at 09:07
The value of the ruble fell sharply again on Tuesday. Attempts by the Russian central bank to stop the currency's decline do not seem to be helping.
The Russian currency fell 0.5 percent on Tuesday morning. For 1 dollar you now get 100.25 rubles. The currency's decline is due to the uncertain prospects for the Russian economy, which is hit by international sanctions.
The ruble also fell sharply in August. Then the currency fell to its lowest point against the dollar since March last year. At the low point, 1 dollar got you 101.75 rubles.
The central bank in Russia then tried to put an end to this with a major interest rate intervention. That seemed to work for a while immediately after the decision, but two months later the ruble is still falling.
The currency has fallen 30 percent against the US currency this year. The weaker ruble has many consequences for Russians in everyday life. A weak currency makes it more expensive to get things from abroad. This will be reflected in the prices. This causes inflation to increase further.
Image: Getty
Read more about:
RussiaEconomyrubleWar in Ukraine
---
---