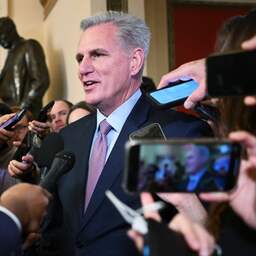 Oct 3, 2023 at 10:50 PM Update: 6 minutes ago
Republican Kevin McCarthy was removed as speaker of the US House of Representatives on Tuesday. A majority voted him out.
McCarthy lost a vote in the House after a party member introduced a motion against him. Because a group of radical Republicans, like the Democrats, voted against McCarthy, he no longer had enough support to stay on.
It is the first time in American history that a Speaker of the House has been impeached.
Renegade Republican Rep. Matt Gaetz and other hardliners within former President Donald Trump's Republican Party are extremely dissatisfied with a deal McCarthy struck on Saturday with President Joe Biden's Democrats. That agreement prevented a government shutdown.
If that had not happened, the federal government would have been partially shut down. Then only the most necessary payments could be made. Many civil servants were left without a salary until an agreement was reached on a new budget.
Only essential government services would remain open, such as border control, the lifeguard and components concerned with national security.
Unclear who will succeed McCarthy
It is unclear who should succeed McCarthy now. Gaetz and the group of hardliners have not yet put anyone forward, but the question is whether a radical Republican could get a majority behind him.
A CNN analyst says it is also possible that McCarthy will try to become chairman again. He will have to convince a number of party members that he deserves their trust. In January it took no fewer than fifteen rounds of voting to appoint McCarthy as chairman. The hardliners then stopped their resistance after a number of concessions.
Image: AFP
Read more about:
United StatesForeign
---
---