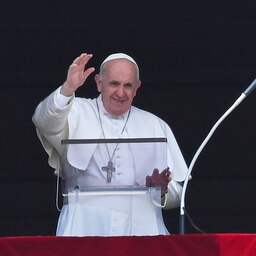 Oct 3, 2023 at 7:57 AM Update: 10 minutes ago
Pope Francis appears to have opened the door to blessing marriages of same-sex couples in the future.
This would be a possibility if there are not too many, the church can decide on a case-by-case basis and it is clear that the ordination of these couples is not the same as that of heterosexual couples.
Pope Francis made this known after questions from five conservative cardinals from Asia, Europe, Africa, the US and Latin America. They asked their questions ahead of a major meeting of cardinals in the Vatican, which starts on Wednesday.
One of the questions was about the blessing of gay relationships, which already happens regularly in Germany, for example. One condition is that the couples have a committed, monogamous relationship.
Church seems to have moved on a bit in recent years
The cardinals already asked their questions in July. The Vatican published Pope Francis' response on Monday. The cardinals were not satisfied with the answers.
The head of the Roman Catholic Church seems to have moved slightly with his new vision. In 2021, the Vatican firmly stated that it did not condone these practices. The Pope previously said he agreed with laws that guarantee that same-sex couples have the same rights as heterosexual couples.
Pope Francis writes emphatically in his answers that the sacrament of marriage is reserved for heterosexual couples. The Catholic Church does not view same-sex relationships as sinful, but their sexual acts are.
Image: ANP
Read more about:
Catholic ChurchPope FrancisLgbtiq+Foreign
---
---