Game of Thrones star Peter Dinklage will star in the upcoming reboot of The Toxic Avenger (1985). After the first images of the superhero film were revealed last month, the first teaser has been released The Toxic Avenger (2023) now showing.
Mutated superhero
Winston Gooze is a low-level chemical factory worker who is transformed into a mutated and deformed superhero due to a terrible industrial accident. His new super strength and super abilities put him on the path to becoming an unlikely vigilante in society's downward spiral. Although Gooze is extremely unsuited to be a hero, his heart is in the right place and he decides to fight the corruption of the Garbinger brothers.
From actor to director
In addition to Dinklage, the film also stars The Lord of the Rings star Elijah Wood as the evil Fritz Garbinger. Kevin Bacon plays his brother, powerful businessman Bob Garbinger. Also Jacob Tremblay (The Little Mermaid (2023)) can be seen in the film as Gooze's stepson and Zola actress Taylour Paige plays the role of investigative journalist JJ Doherty. Macon Blair is best known as an actor from, among other things Blue Ruin (2013) and was recently seen in Oppenheimer (2023). He previously directed an episode of Room 104 (2017–2020) after which he is now at the helm of The Toxic Avenger.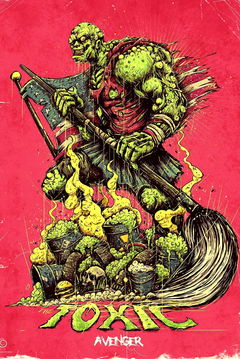 5.6
A mild-mannered health club janitor is chased from a second floor by bullies and lands in a bin of toxic waste.
Release date unknown
Unfortunately, it is not yet known when the film will be released. The first full trailer is expected to be released soon and the release date will hopefully be announced. As soon as there is more clarity about this, we will of course report this.
Beeld: Still 'The Toxic Avenger' via TMDb
---