Netflix will soon expand its anime offering with the arrival of Pluto (2023). The brand new series is based on the manga by Naoki Urasawa and Takashi Nagasaki, who based their work on the iconic manga Astro Boy: The Greatest Robot on Earth from 1964. Pluto will appear on Netflix at the end of this month and the trailer can now be seen.
People and robots
A murder is committed in an orderly world where robots cannot kill people. The robotic Europol detective Gesicht takes on the case, but the mystery deepens when he finds no trace of a human at the scene of the crime. As he searches for the truth, Gesicht uncovers the most evil expression of hatred history has ever seen, one bent on destroying the world…
Beloved Astro-boy
Astro Boy: The Greatest Robot on Earth won hearts and accolades around the world, including the prestigious Tezuka Osamu Cultural Prize. A stage adaptation, which debuted in 2015 and returned by popular demand in 2018, toured Japan and Europe, further cementing Astro Boy's cultural significance. Directed by Masao Maruyama, member of the original Astro Boy production team, Pluto is released 60 years after the very first Japanese TV animation of Astro Boy.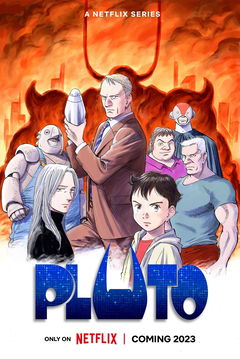 Watch on Netflix • PLUTO, winner of manga awards around the world, finally gets its first animated adaptation.
Pluto is off 26th of October available on Netflix.
Image: Still 'PLUTO' via Netflix
---