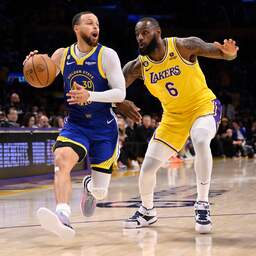 NBA stars Kevin Durant, LeBron James and Stephen Curry want to participate in the Paris Olympic Games on behalf of the United States. This means that a new American 'dream team' appears to be in the making next summer.
The US will be hunting for its fifth Olympic title in a row in the French capital. Durant would become the first American basketball player with four gold medals. "I will be there in Paris next year," Durant said during a media day of his Phoenix Suns team.
All-time NBA top scorer James, who won gold at the 2008 and 2012 Games, kept a more low profile. "I'm interested, we'll see," said the Los Angeles Lakers star. Other players have now indicated that 39-year-old James is working behind the scenes to mobilize top players for the Olympic dream.
Golden State Warriors guard Curry was a four-time NBA champion, but has never won Olympic gold. "I've talked about it with people. If it goes the way I hear, then I want to participate," Curry said. "It's the only thing I haven't achieved yet."
The term 'dream team' emerged at the 1992 Barcelona Games, when the US featured all-star NBA players for the first time. The American team then convincingly won the gold medal.
---
---