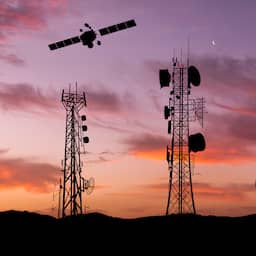 Oct 3, 2023 at 12:10 AM Update: 10 minutes ago
For the first time, a company has been fined for leaving waste in space. Communications company DISH has that dubious honor and must pay $150,000 for not clearing a satellite.
DISH should have ensured that a satellite would move to another location near Earth at the end of its life, but that did not happen. As a result, satellite EchoStar-7 continues to pose a danger to other satellites.
The satellite was launched in 2002. It orbited the Earth at a distance of about 36,000 kilometers. That is a normal workplace for communications satellites, far above observation satellites and space stations.
DISH and the American telecom watchdog FCC agreed in 2012 that the satellite would use its last bit of fuel at the end of its life to fly to a 'graveyard' in space.
FCC speaks of 'breakthrough'
When the time came ten years later and the end of the satellite was approaching, it turned out that there was no longer enough fuel on board. As a result, EchoStar-7 remains a danger to other communications satellites in that high orbit.
"As we increasingly use satellites and the space economy grows, companies must stick to their agreements. This measure is a breakthrough," the FCC said.
There are thousands of satellites and many more pieces of debris orbiting the Earth at high speed. When they collide, they break into smaller pieces. The more space debris there is, the greater the chance of more collisions and the creation of even more waste. Due to the high speeds, even the smallest pieces of debris can be dangerous.
Receive notifications for news about the universe and space travel. Stay informed with notifications
Beeld: Getty Images
Read more about:
Universe and space travelForeign
---
---