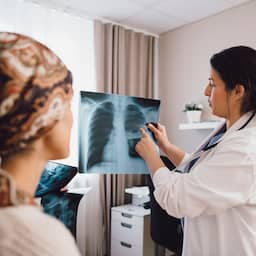 A striking number of women develop lung cancer, according to the Comprehensive Cancer Center of the Netherlands. In the near future, the number of people with cancer will only increase. How can this expected increase be explained? And is there anything that can be done about that?
According to Truuske de Bock, professor of Oncological Epidemiology at the University of Groningen, this increase can largely be explained by the fact that we are getting older. "Cancer is primarily a disease of old age, so the older we get, the more people get cancer."
Currently, a third of new cancer patients are 75 years or older. KWF Cancer Control has announced that the number of cancer patients will continue to increase if nothing is done about it by healthcare. KWF not only points to aging as the cause, but also focuses on the importance of a healthy lifestyle.
The effects of a lot of sunbathing and smoking
It is striking that cancer occurs more often in the Netherlands than in most other countries within the European Union. The disease is only more common in Ireland and Denmark. In addition to colon cancer and melanoma, breast cancer is also common. This is not only due to different lifestyle habits, but also to genetic characteristics.
In the sixties and seventies we started smoking more socially, and we are now seeing the effects of this.
Thijs Merkx, chairman of IKNL
"In the 1960s and 1970s, we started smoking more socially, and we are now seeing the effects of this," says Thijs Merkx, chairman of the Integrated Cancer Center of the Netherlands (IKNL). "Several cancers can be caused by smoking. Not only lung cancer, but also head and neck cancer, esophageal cancer, kidney cancer and bladder cancer."
We also spent more time in the sun and under the sunbed. Light skin is the most common skin type in the Netherlands. That, in combination with the sun behavior of many Dutch people, could explain why melanomas are so common. "It used to be a status symbol if you had light skin; that meant you didn't have to work in the fields. Nowadays we apparently find sun-tanned skin beautiful."
The importance of early detection
What can we do to prevent a further increase in cancer? "It is not enough to say: stop smoking and excessive sunbathing," says Merkx. "We must pay more attention to prevention and early detection and continue to emphasize the value of population studies."
To emphasize the importance of early detection, aftercare can be minimized if we detect the cancer early.
Thijs Merkx, chairman of IKNL
The chairman says that treating cancer is easier if the disease is detected at an early stage. "To give an idea of ​​the seriousness of the situation: in 2021 we received 124,000 new patients. If this continues, we will have approximately 165,000 new patients in 2032. In addition, care for former patients is also necessary. In 2021 While there were 800,000, by 2030 there will be more than a million."
All these people, both patients and ex-patients, need long-term care. Merkx: "In addition to the quality of regular care, good aftercare is also becoming increasingly important. And to emphasize once again the importance of early detection: this aftercare can be kept as little as possible if we detect the cancer early."
A joint approach can prevent growth
In order to achieve national alignment regarding the approach to cancer, a national action plan has been drawn up by KWF Kankerbestrijding, IKNL and the Dutch Federation of Cancer Patient Organizations. The idea is that a joint approach helps to join forces in the areas of prevention, treatment, other care and the associated challenges.
We can avoid the sun and apply good sunscreen, but we can also stop smoking and drink less alcohol.
Truuske de Bock, professor of Oncological Epidemiology
In addition, it can help to rule out certain risk factors yourself. "We can do this by staying healthy for as long as possible," De Bock explains. "For example, by avoiding the sun as much as possible or by applying good sunscreen, but also by quitting smoking and drinking less alcohol."
Sometimes you are unlucky
De Bock also says that we should not underestimate the importance of sufficient exercise and healthy eating. "Just like the risk of sitting too much. All these lifestyle factors can contribute to us living longer and healthier, and therefore less likely to develop cancer."
It is important to mention that cancer cannot always be prevented by a healthy lifestyle. "Some people get cancer at a younger age. It may be that it runs in the family, it may also be that someone is unlucky. Not everyone is lucky enough to grow old healthily."
This article previously appeared on NU.nl and was updated on October 2, 2023.
---
---