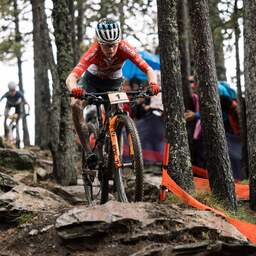 Oct 1, 2023 at 9:23 PM Update: 3 minutes ago
Puck Pieterse became the first Dutch woman to ever win the mountain biking World Cup on Sunday. The Dutch woman secured the overall victory thanks to sixth place at the World Cup competition in Snowshoe, America.
The 21-year-old Pieterse crossed the finish line almost a minute after the Swiss winner Laura Stigger. The European champion finished well ahead of Austrian Mona Mitterwallner, number two in the rankings.
In Snowshoe, Pieterse separated from the rest of the field after a lap and a half, together with Stigger, among others. The Swiss attacked alone a little later, after which no one could follow.
In the final lap, Loana Lecomte came on strong, but the Frenchwoman ultimately had to tolerate Stigger for 23 seconds. The Italian Martina Berta came third at more than half a minute, while Pieterse conceded 55 seconds.
Thanks to sixth place, Pieterse can no longer be overtaken in the World Cup rankings. The last match of the season will be next Sunday in Mont-Saint-Anne, Canada.
Pieterse also won the European title
Pieterse made her World Cup debut on the mountain bike in May and immediately took victory. Later this season, Amersfoort also triumphed in Leogang, Austria and Val di Sole, Italy.
At the end of June, Pieterse became the first Dutch woman ever to win the European mountain bike title. At the World Cup in Scotland last month, the top talent had to settle for bronze.
Beeld: Getty Images
Read more about:
MountainbikenPuck Pieterse
---
---