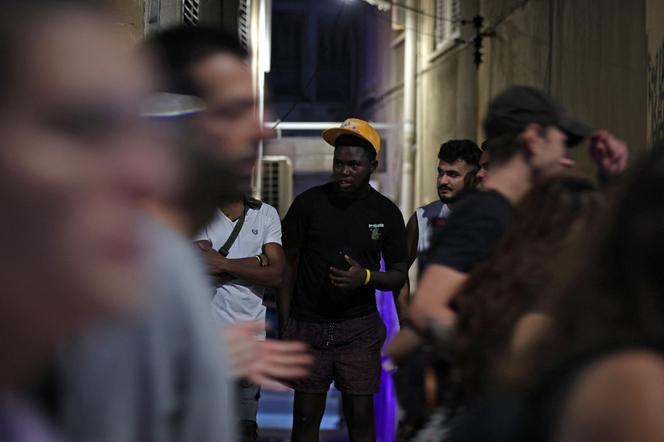 In Nicosia, capital of the southern part of the island of Cyprus, September 10, 2023. CHRISTINA ASSI / AFP
"On October 10, it will be three years since I arrived in Cyprus. I applied for asylum, but I still haven't gotten an appointment for an interview," says Paulette, a 26-year-old Cameroonian sitting on a bench in Nicosia's old town, where she enjoys her weekly day off. On the Mediterranean island, the young woman, employed in a fast-food restaurant, feels "far from the threats" she experienced in Kumba, in English-speaking Cameroon in the grip of a conflict between separatists and the army, and lives "better than 'in the country ". But she asks herself the question of "taking the option of voluntary return", a program promoted by the Cypriot government: "The compatriots who arrived at the same time as me were denied the right to asylum. Daily life has deteriorated, due to inflation, competition between migrants, and the tightening of migration policy. »
Read also: Article reserved for our subscribers "They throw the migrants here": in El Amra in Tunisia, place of refoulement and port of departure to Europe
Voluntary repatriations target newly arrived foreigners, and those whose asylum applications have been rejected, provided their presence is still legal – they are otherwise liable to expulsion, the rate of which in Cyprus is the highest in the country. European Union (EU). Nationals from sub-Saharan Africa are entitled, like Syrians, to the highest compensation – 1,500 euros – if they opt to return, with their plane ticket covered. This is explained by their high representation in recent years: Nigerians, Cameroonians, Congolese from the Democratic Republic of Congo (DRC) and Somalis constituted in 2022 38% of the approximately 21,000 new asylum seekers.
Arrival figures are minimal compared to other southern European countries, such as Italy. But, on the scale of the southern part of the divided island which has 915,000 inhabitants for less than 6,000 km2, the influx, on the rise since 2018, is considered worrying by the authorities in Nicosia.
"Personal decision"
An approach criticized by NGOs, who highlight the contribution of migrants to the economy and the need for protection of refugees. The government denounces Turkey's hand behind these arrivals: most of the migrants cross, with a smuggler, the demarcation line between northern Cyprus, controlled by the Turkish Republic of Northern Cyprus (TRNC, recognized only by Ankara), and the south. He believes that in the majority of cases he is dealing with economic migrants. More than 95% of asylum applications were rejected in 2022, a figure which can also be explained by the interruption for more than two years of the study of the files of Syrians, with a refugee profile.
You have 64.55% of this article left to read. The rest is reserved for subscribers.
---
---