Disney takes us to the magical kingdom of Rosas Wish (2023), a brand new animated film from the makers of Frozen (2013). The brand new trailer can be viewed today.
Brave wish
The sharp-witted Asha makes a wish so powerful that it is answered by a small ball of boundless energy: Star. Together, Asha and Star take on a very cunning enemy, King Magnifico. The two want to save the residents of Rosas and prove that when the will of a brave man combines with the magic of the stars, miraculous things can happen.
From Frozen director
Wish is directed by Oscar winner Chris Buck, who previously Frozen (2013) made, and by Fawn Veerasunthorn, creator of Raya and the Last Dragon (2021). This time the music comes from Grammy-nominated singer-songwriter Julia Michaels and Grammy winner Benjamin Rice.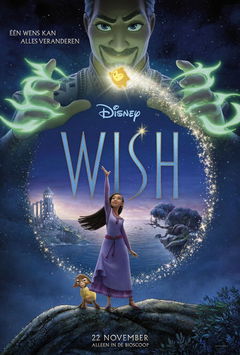 17-year-old Asha comes from Rosas, a magical realm where wishes come true. She is a sharp-witted idealist who wants to protect her home from an evil force.
In theaters this fall
Wish appears 22 november in the cinema. For a complete overview of all new films that will soon premiere on the big screen, you can go here. The animated film will eventually also come to Disney+, but no release date has been announced yet.

Copyright The Walt Disney Company, 2023
Beeld: Copyright The Walt Disney Company, 2023
Text: Disney
---