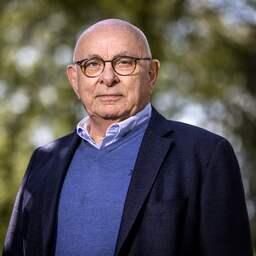 Sep 28, 2023 at 2:05 PM Update: 4 minutes ago
Michael van Praag secured two top positions on Thursday. Shortly after it was announced that he would become chairman of the basketball association, Ajax reported that it was discussing a return. Van Praag must guide the club out of the crisis as commissioner.
Not only Van Praag is on his way to the supervisory board of Ajax. Former KLM CEO Leo van Wijk is also discussing a return to the Johan Cruijff ArenA. The current commissioners see the two 76-year-old directors as the ideal successors to the resigned Pier Eringa and Jan van Halst, who is now interim director.
Van Praag is well known at Ajax. He was chairman of the Amsterdam club between 1989 and 2003. During that period, Ajax achieved great success, with the Champions League final victory in 1995 as the highlight. Van Wijk was previously a commissioner at Ajax and is currently an honorary member.
Ajax is in a deep crisis. The club has started the season dramatically and is only fourteenth in the Eredivisie. Technical director Sven Mislintat was fired on Sunday. Eringa resigned on Wednesday.
The current supervisory board of Ajax consists of Annette Morsman, Georgette Schlick and Cees van Oevelen. Alex Kroes is only allowed to start as general manager in March due to a non-competition clause he signed with AZ.
From Praag also on the way to the basketball association
Remarkably, it was already announced on Thursday that Van Praag will become the new chairman of the NBB basketball association. He is the only candidate who can be voted on at the general membership meeting of November 25. It is not yet known whether and how he can fill both positions at the same time.
"I will use my contacts in The Hague and municipalities to promote the interests of the association there," says Van Praag about his nomination as NBB chairman. "Think of suitable sports facilities. There is a lot to be gained there. Collaboration is always the starting point. At Ajax we always said: 'Nothing beats the club.' That also applies here."
Van Praag must become Joop Brakenhoff's successor at the NBB. He recently announced his retirement because he can no longer combine the position with his work.
Image: ANP
Read more about:
AjaxBasketballMichael van PraagFootball
---
---