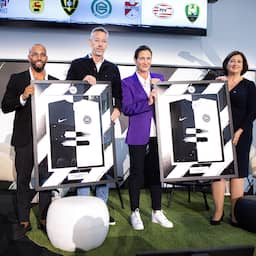 Sep 28, 2023 at 11:38 am
The KNVB is "more in action mode" when it comes to tackling racism and discrimination. Marianne van Leeuwen, director of professional football at the KNVB, presented plans for the coming years around this theme in Zeist on Thursday.
"We are going to shift the emphasis slightly," said Van Leeuwen. "The emphasis was on awareness and that doesn't stop there. But we are going more into action mode. That if something is or happens, we will actually report it."
The cabinet and the KNVB presented the first plan to combat racism and discrimination at the beginning of 2020. The reason for that plan was an incident in November 2019 during the FC Den Bosch-Excelsior match in the first division. Excelsior player Ahmad Mendes Moreira was racially abused by Den Bosch supporters.
The government then made 14 million euros available for a period of three years for the OVIVI (Our Football Is Everyone) plan. With the new plan, OVIVI 2, presented on Thursday, that project will be continued until at least 2025.
The plan has 22 components, which are divided into four so-called 'action lines': prevention, signaling, sanctioning and working together. The KNVB wants to raise awareness with training programs for professional football and amateur football clubs.
The football association is also continuing with the OneLove campaign. "After three years, the focus shifts from inspiring to activating," said the KNVB.
---
---