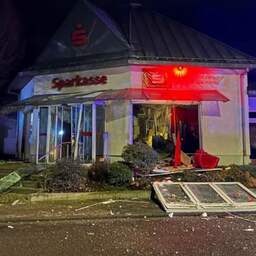 Sep 28, 2023 at 11:51 AM Update: 2 minutes ago
Police in Central Netherlands arrested four Dutch people on Wednesday who are suspected of dozens of bombings at ATMs in Germany. At the beginning of this year, twelve people were already arrested for this, the police reported.
These are four suspects aged 25, 26, 29 and 30. They all live in the province of Utrecht and are still being held for questioning.
The arrests are the result of a major investigation into a series of bombings in Germany. The criminal investigation department of the Central Netherlands police unit is working together with the same team from Bavaria and Baden-Württemberg.
That investigation led to nine arrests at the beginning of last year, all in the province of Utrecht. Not much later, three more arrests were made. As a result of Wednesday's police work, sixteen people from the Dutch gang were arrested.
The police also searched nine homes in different municipalities. Money, heavy fireworks and mobile phones were seized. A suspicious package was found on Boliviadreef in Utrecht and even surrounding homes had to be evacuated. After investigation by the Explosive Ordnance Disposal Service, it turned out not to be an explosive.
Image: Central Netherlands Police
Read more about:
Crime in the Netherlands Domestic
---
---