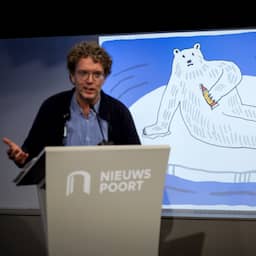 Bas van der Schot won the Inktspot Prize on Tuesday with his cartoon Extinction Rebellion. The artist has received the prize for the best cartoon for the third time.
It is a drawing of a polar bear sitting on a small piece of ice floe. He has a tube of glue in one paw and his other paw is glued to the ice floe. The print was published in de Volkskrant on October 28.
"The drawing is simple, fresh in color and deceptively pleasant, like a picture from a children's book," says the jury. "The feeling of powerlessness in the fight against climate change is depicted in an original way."
This year the jury consisted of presenter Eveline van Rijswijk, illustrator Philip Hopman, photographer and HUMAN editor-in-chief Ahmet Polat, art historian Harriet Stroomberg and screenwriter and director Niek Barendsen.
The award was presented at the Nieuwspoort Press Center in The Hague. A year ago, Jip van den Toorn won the Inktspot Prize.
---
---