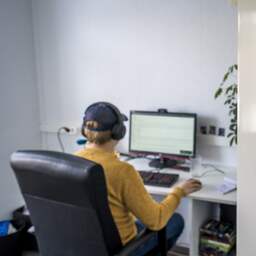 Sep 26, 2023 at 2:54 pm
Employees are not given a legal right to work from home. A majority in the Senate rejected the Work Where You Want Act on Tuesday.
The new law should ensure that employees have more rights to work from home. A company with more than ten employees may not simply refuse a request to work from home. The same applies if an employee does want to go to the office.
An employer may only reject a request to work from home or at the office if there are important business or service interests. A company must also treat a request for adjustment of the workplace in the same way as a request for adjustment of working hours or working hours.
Most factions in the Senate already indicated in a debate earlier this month that they were sympathetic to the proposal by Members of Parliament Steven van Weyenberg (D66) and Senna Maatoug (GroenLinks). But they doubted its usefulness and necessity.
Others wondered whether the law would create too much regulatory burden for employers. There were also concerns about employees in the border regions for whom arrangements made during the corona period no longer applied.
Many companies use a hybrid form
There are currently big differences when it comes to working from home. At some companies it is no problem to do everything from home, at other companies people are required to come to the office.
Furthermore, many companies use a hybrid form. This means, for example, that an employee is required to work three days in the office and two days at home.
Moreover, half of the working population, around five million people, cannot work from home. This concerns, for example, people in construction and healthcare. Working from home was also only temporary and incidental in education.
According to employers' association AWVN, employers and employees make good agreements. Monday, Tuesday and Thursday are still the most popular days to go to the office. Many part-timers are traditionally free on Wednesdays and Fridays.
Image: ANP
Read more about:
EconomyFirst RoomHome
---
---