The Nations League match between the Dutch team and England on Tuesday not only means a return of Sarina Wiegman to Dutch soil. It is also a meeting between the national coach and captain of the Dutch national team from 2001.
"How are you doing?" Wiegman texted Jonker in the run-up to the match between England and the Netherlands. "I received no response. Now that we are going to play against each other, he shares fewer experiences with me," jokes the 53-year-old national coach of the English team the day before the Nations League match in De Galgenwaard.
The competition is a special meeting between Wiegman and Jonker, who have known each other since the 1990s. At the time, Wiegman was doing an internship at Jonker, when he coached the girls under sixteen in the West region. In the years that followed, the two never lost sight of each other again.
"It is super special that we are now facing each other. We are really football friends," says Wiegman. Jonker is also looking forward to the competition. "We have known each other for so long. When you have to play football against each other, it is really special," says the 61-year-old national coach.
The Dutch national team suffered a painful defeat against Belgium in the Nations League on Friday. Photo: ANP
Wiegman's coaching character quickly caught the attention of Jonker
After working for the Dutch youth teams for seven years and being at the helm of FC Volendam for a season, Jonker started his first term as national coach of the Orange Women in 2001. The Amsterdammer was appointed as interim national coach for six months.
At Oranje he worked closely with Wiegman, who fulfilled the role of captain. "She was a soldier like Spitse. You could count on her and she was a real fighter. A pit bull who could also play football well."
"We just always talked about football," says Wiegman. "About the way of playing. Then we played 3-4-3 for a while and I came back from midfield as a kind of free defender. That has changed. You can't play like that anymore. I have nice memories of that time."
Wiegman's coaching character quickly caught the attention of Jonker. "It was not surprising that she was captain. She was someone who thought along and kept an eye on what was happening. She thought about whether things could be improved, also in the organization. She had her mouth in the right place."
This soon became clear when Jonker saw that players were already "completely in the red" in the spring due to jobs and studies in addition to football. "Then Sarina said: 'When I look around and feel my own legs, I think we should take it easy for a few days, Andries.' At that time, it was a matter of making things happen," says Jonker.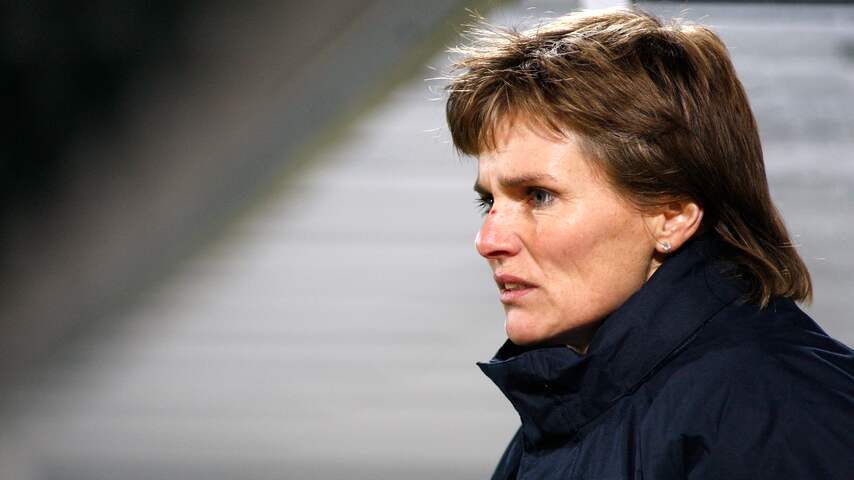 Sarina Wiegman as coach of the women's team of ADO Den Haag (2007-2014) Photo: Pro Shots
'We were happy with five hundred spectators then'
Times have changed. The current Dutch squad can focus fully on football and will play in front of 23,750 spectators in a sold-out Galgenwaard on Tuesday. The away match against England on December 1 will even be played at Wembley. The stadium in London has a capacity of 90,000.
"When I was a football player, we were happy with five hundred people on the sidelines. Or if there was a camera," says Wiegman, who also worked as a gym teacher in The Hague during her international career. "That has of course completely changed. It is very special to experience that completely."
Wiegman made history when she played her hundredth international match against Denmark (1-1) under Jonker on April 9, 2001. She was the first player to succeed in this. She was presented with a bowl and was congratulated in a speech by Louis van Gaal, then national coach of the Orange men's team.
"At that time it was exceptional if you played a hundred international matches. Because we did not have that many per year," says Jonker. The development in women's football is very strikingly reflected in the new record international: Sherida Spitse with 221 international matches.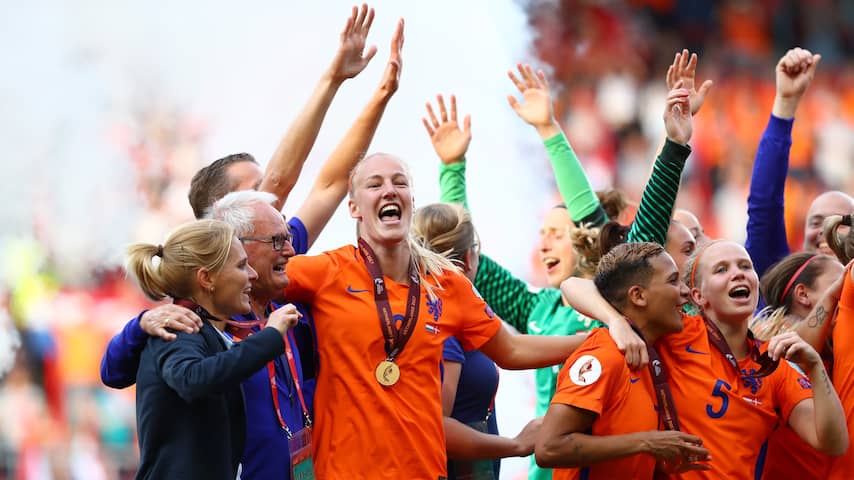 Sarina Wiegman became European champion with the Netherlands in 2017. Photo: Getty Images
Sarina Wiegman's list of honors as trainer
European titles: 2017 and 2022 National champion of the Netherlands: 2007 and 2012 KNVB Cup: 2007, 2012 and 2013
Jonker showed Wiegman the way as a coach
When Wiegman ended her international career on June 14, 2001 and also retired from her club Ter Leede in Sassenheim two years later, she continued to keep in touch with Jonker. She was even at the helm with him at the Dutch under-21 team.
"He helped me when I was a starting coach. We always sparred and he shared his experiences with me," says Wiegman.
Wiegman has now grown into a celebrity in football. She guided the Dutch team to the European title in her own country in 2017 and reached the final of the World Cup in France (2019). She repeated this trick with the 'Lionesses' by winning the 2022 European Championship (in England). Last summer she made history by being the first trainer ever to reach the World Cup finals with two different countries.
Despite all the praise, including from Jonker, Wiegman remains modest. "It takes some getting used to the fact that so much attention is paid to me. It's special. I haven't changed that much, but the world around me has."
Programma Nations League
The Netherlands will take on England in the Nations League on Tuesday at 8 p.m. Andries Jonker's team suffered a painful defeat in Belgium (2-1) on Friday, while Sarina Wiegman took three points with England against Scotland (2-1). Only the number one in the group will advance to the final round of the Nations League.
Friday, October 27, 8:45 PM: Netherlands-Scotland Thursday, October 31, 8:45 PM: Scotland-Netherlands Friday, December 1, 8:45 PM: England-Netherlands Sunday, December 5, NB: Netherlands-Belgium
---
---