Sep 26, 2023 at 11:47 pm
National coach Andries Jonker achieved an important Nations League victory over England with the Dutch team on Tuesday. A late goal from Renate Jansen gave the Netherlands three points, although Jonker would not have thought it unjustified if there had been only one.
Jonker was very pleased with his team's play after the 2-1 win. "I enjoyed our team in the first half. We created a number of chances and we scored, although you could say it was offside," Jonker said with a wink at the press conference after the match.
After an error in the English defense, Daniëlle van de Donk picked up the ball in the 34th minute, after which Lieke Martens shot the ball home. In retrospect, Van de Donk was offside, but a video referee was missing in the Nations League match and so the goal counted.
"In all honesty: I had flagged," said Jonker. "But we were entitled to a goal."
After the break, England got into the match better, which resulted in Alessia Russo's equalizer after more than an hour of play. "We fought for every meter and scored where possible. But the equalizer was deserved."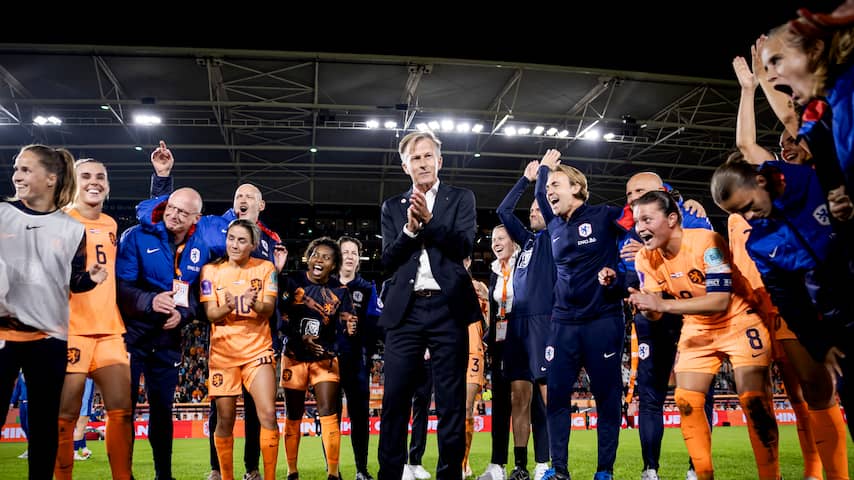 National coach Andries Jonker celebrates the victory with his team afterwards. Photo: Getty Images
'Apotheosis of a beautiful evening'
With the introduction of Renate Jansen, Jonker made a golden substitution. In the 90th minute, the veteran FC Twente shot the Dutch team to victory.
"If you shoot the ball in at that moment, that's fantastic. It's the apotheosis of a beautiful evening. If it had been equal, I could have lived with that. But on the other hand: you force luck, you must do everything for it."
Thanks to the victory, the Dutch team still has a chance of an Olympic ticket. A group win gives access to the final round of the Nations League, after which a final place means a ticket for the Games.
"We now have everything in our own hands again. Four wins and we go to Paris. That is nice after the defeat against Belgium. I am a positive coach, who always sees possibilities. Who always tries to see light in the tunnel. isn't so difficult now."
Image: Pro Shots
Read more about:
Andries JonkerOrange WomenWomen's FootballNations LeagueFootball
---
---