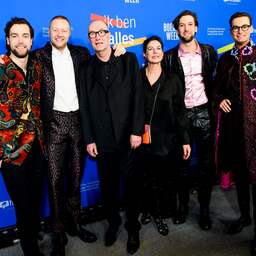 By our entertainment editors
Sep 26, 2023 at 3:28 p.m
The Chabot family is writing next year's Book Week Gift. It is the first time in the history of Book Week that a family has written the gift.
The CPNB Foundation has asked Bart Chabot and his family because of the theme of the 89th Book Week: In our family.
The writing profession is not new for Bart and his sons Sebastiaan, Maurits and Splinter, but his wife Yolanda and youngest son Storm are making their debut with the Book Week gift. The book is called Family Packaging.
The Chabot family considers it a great honor. "We have often been asked to make something together as a family, but we have always said no," says Bart Chabot on behalf of the family. "But we simply couldn't say no to the exciting and unique plan to give color to Book Week together. It is the greatest and highest honor. And it was such a joy to write together."
In addition to the Book Week gift, Bart Chabot is writing a poetry collection on the occasion of Book Week. Various authors have written an essay over the past 34 years, but this year a poetry collection will take its place. The collection, entitled Ooievaarsblues, consists of old work and new poems by Chabot.
During Book Week, people receive the Book Week Gift when they spend 15 euros on books in the bookstore. Book Week is from March 16 to 24.
Image: NL Image / Patrick van Emst
Read more about:
bart ChabotBooksSplinter Chabot
---
---