Sep 25, 2023 at 9:19 PM Update: 15 minutes ago
Maarten van Rossem will also leave the program The Smartest Person after the 2024-2025 winter season. The 79-year-old historian reported this in an interview that De Telegraaf published on the website on Monday evening.
Presenter Philip Freriks previously announced that he would stop. He will be replaced by Herman van der Zandt.
"My last broadcast will be shown in February 2025," Van Rossem told De Telegraaf. "At the same time that Philip leaves. Two years ago, so long before Herman was on the screen at this broadcaster, he decided to complete the 25th season and leave it at that. Then I said: 'If you leave, go I'm leaving too.'"
"So we've known about it for a while. To speculate further about it is pointless and, if I may speak for myself, also very unpleasant. Besides, it's still a long way off. Maybe we're both dead."
Van Rossem previously said he would continue until he was 100
Earlier this month, Van Rossem speculated that he would like to continue serving as a one-man jury until he is 100 years old. But he did this mainly to annoy the people who hate him, he now admits. "I thought all those speculations about us and the program were just nonsense," says Van Rossem.
"I thought that would be funny to stay until I was 100. In reality, of course, I'm not going to do that. I don't know much about whether I'll even reach that age. By stating that I would stay where I am, I consciously chose to to annoy people a little."
Freriks and Van Rossem have been making The Smartest Person since 2012. Under their leadership, the knowledge quiz has become one of the most watched programs on Dutch television. It is not yet known who will succeed Van Rossem as one-man jury.
11 Sep 2023 at 05:49
Herman van der Zandt will present The Smartest Person from 2025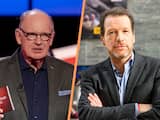 01 Aug 2023 at 09:09
The smartest person starts the new season with more than 2.3 million viewers
Image: ANP Photo
Read more about:
The smartest personMedia and Culture
---
---