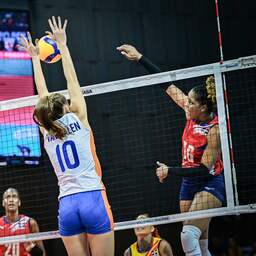 Sep 24, 2023 at 11:29 am
The Dutch volleyball players failed to obtain a ticket for the Olympic Games on Sunday. The team of national coach Felix Koslowski had to drop two sets to the Dominican Republic in the last group match at the Olympic qualifying tournament.
The Netherlands had to win 3-0 or 3-1 in the last group match to end up in the group with the first two countries. The Dominican Republic has already taken two sets, meaning the Dutch team is missing out on a ticket. The competition is currently still ongoing.
The Dutch team now depends on the position in the world rankings in June. Five more countries will qualify for the Games via this detour. The Netherlands finished fourth at the Rio de Janeiro Games. The Dutch volleyball players were missing in Tokyo.
This way, the volleyball players can still qualify for the Games
Twelve countries are allowed to participate in the Olympic Games. France has already been placed as the host country. Six teams qualify via the OKT. The tournament in China (September 16-24) consists of three groups of eight countries. The top two in each group receive an Olympic ticket. The remaining five tickets will be distributed based on the world rankings. This will be drawn up in June 2024, after the group stage of the Nations League. First, we look at the high-ranking countries per continent that do not yet have a ticket. Once all continents are represented, the highest-ranking countries receive the remaining tickets. The Netherlands is now ninth.
This message is being supplemented.
Image: FIVB
Read more about:
Volleybalsters
---
---