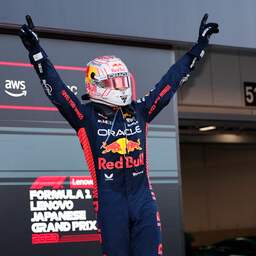 Sep 24, 2023 at 8:50 AM Update: 3 minutes ago
Max Verstappen can become world champion in two weeks' time at the sprint race in Qatar. If he manages to score three points more than his teammate Sergio Pérez, Verstappen can no longer miss the title.
Thanks to his dominant victory in Japan, Verstappen is 177 points ahead of Pérez, who dropped out at Suzuka. After the sprint race in Japan, a maximum of 180 points can still be scored.
If Verstappen does not manage to lead by three points in the sprint race in the oil state, he will probably still become world champion a day later. After the main race there is still a maximum of 154 points to be scored, so Pérez will have to catch up with his teammate.
Verstappen became world champion in 2021 and 2022. Red Bull secured the constructors' title in Japan on Sunday despite Pérez's retirement. It was the sixth time in Red Bull's history that the team championship was won.
After the Qatar Grand Prix, there are still five Grand Prix weekends to go. The Formula 1 drivers will still race in the United States (Austin), Mexico, Brazil and Las Vegas this year.
The lead that Verstappen needs to become champion

07-10: Sprintrace Qatar – 180 points 08-10: GP Qatar – 146 points 21-10: Sprintrace VS – 138 points 22-10: GP VS – 112 points 29-10: GP Mexico – 86 points 04-11: Sprint race Brazil – 78 points 05-11: GP Brazil – 52 points 18-11: GP Las Vegas – 26 points 26-11: GP Abu Dhabi – 0 points (if there is a tie, Verstappen is champion based on victories)
Image: Reuters
Read more about:
Formula 1 Max Verstappen
---
---