Sep 24, 2023 at 10:56 AM Update: 3 minutes ago
Shortly before the start of the Berlin Marathon, police removed climate demonstrators who wanted to sit on the road. This happened at the starting point of the marathon route at the Brandenburg Gate.
Gruppe Letzte Generation had announced that it wanted to disrupt the marathon as a climate protest. The group has been blocking roads in the German capital for some time now.
The mayor of Berlin had called on the demonstrators not to disrupt the marathon. "I don't even want to think about it: a disruptive action could even prevent a world record in the marathon," Mayor Kai Wegner said on Saturday. Last year, Kenyan Eliud Kipchoge set a world record in Berlin and he will participate again on Sunday.
This year, 48,000 people will participate in the Berlin marathon. According to the mayor, a disruption by the climate group would "make many residents of the city very angry".
A week ago, members of the group smeared the Brandenburg Gate with orange paint. According to the municipality, the cleaning will cost at least 35,000 euros.
Sep 23, 2023 at 10:11 am
Berlin calls on climate demonstrators not to disrupt Sunday's marathon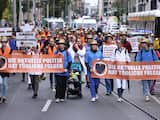 Sep 18, 2023 at 11:53 am
Climate activists in Berlin begin series of roadblocks during rush hour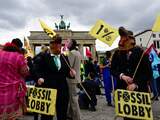 Image: ANP
Read more about:
GermanyClimateForeign
---
---