Sep 24, 2023 at 12:00 Update: 3 minutes ago
Ethnic Armenians in Nagorno-Karabakh are likely to leave the disputed border region, according to Armenia's prime minister. The conflict between Armenia and Azerbaijan over Nagorno-Karabakh has escalated again in recent weeks. 120,000 ethnic Armenians live in the area.
Armenia is ready to receive all 120,000 people. The country's prime minister said this to the Reuters news agency on Sunday. According to the prime minister, the residents of Nagorno-Karabakh will probably leave for fear of violence from Azerbaijan.
Since the fall of the Soviet Union, there has been a fight over Nagorno-Karabakh. The enclave is located in Azerbaijan, but is inhabited by people who are ethnically Armenian. They managed to defend their area for thirty years, but now seem to be giving up that fight.
The breaking point is the attack that Azerbaijan carried out this week to annex Nagorno-Karabakh. More than two hundred people are said to have died on Tuesday. A ceasefire was quickly concluded with Russian mediators. With this, the residents of Nagorno-Karabakh have effectively given up their fight.
For example, it was demanded that the fighters from the enclave hand over their weapons. Something that is also happening according to the Russian peacekeeping force. As evidence, photos of seized weapons were shared on Saturday evening. It is unclear whether these are actually the weapons of the ethnic Armenian fighters.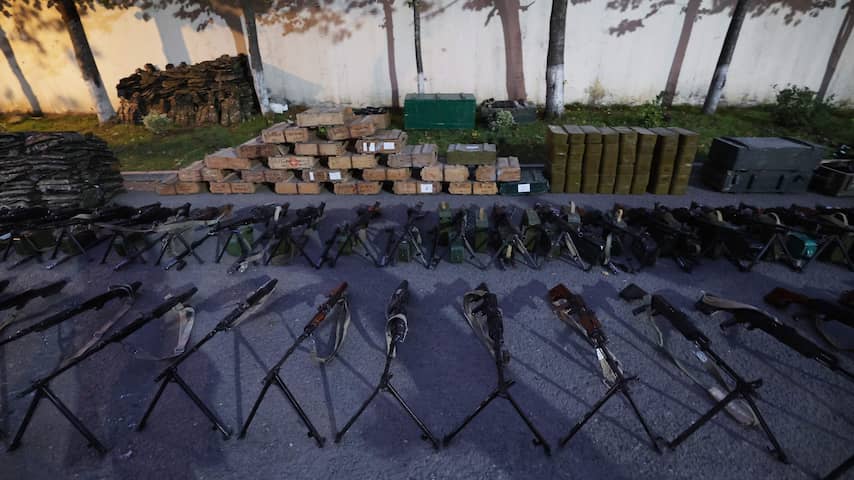 Azerbaijani soldiers show the press weapons and ammunition that they allegedly seized from ethnic Armenian fighters. Photo: AFP
It is still unclear when people will leave Nagorno-Karabakh
A Russian peacekeeping force is in the area to ensure that all rules of the ceasefire are observed. Azerbaijan says it respects all people's rights and integrates the area. But Armenia and the United States said this weekend that they were concerned about the fate of ethnic Armenians.
"Our people do not want to live as part of Azerbaijan. 99.9 percent prefer to leave our historic country," David Babayan, the adviser to the president of the self-proclaimed Republic of Artsakh, told Reuters. Artsakh is the name Armenians use for Nagorno-Karabakh.
"The fate of our poor people will go down in history as a shame for the Armenian people and for the entire civilized world," Babayan said. According to him, it is still unclear when the population will actually leave.
This will be done via the Lachin corridor that connects the area with Armenia. The Russian peacekeeping force says it is prepared to guide families if they want to leave Nagorno-Karabakh.
Image: AFP
Read more about:
ArmeniaRussiaAzerbaijanNagorno-KarabakhForeign
---
---