Sergio Pérez again failed to promote himself on Sunday in Suzuka, with bumbling and a retirement. A seat for 2024 seems guaranteed for the Mexican, but ultimately he could pose a risk for Red Bull.
The misery started on Sunday with a bad start for Pérez, who immediately came under pressure from the drivers behind him from fifth place. The fact that he suffered damage was not directly the Mexican's fault. But his clumsy overtake on Kevin Magnussen even more so.
Also because the Red Bull driver did almost the same to Alexander Albon last week in Singapore. A failed overtaking attempt two weeks in a row due to an error of judgment, something that would not happen to his invariably resolute teammate Max Verstappen.
That teammate is also the main reason why Pérez is not under pressure. His position is still not in question for 2024 and mistakes like those at Suzuka are covered with the cloak of love by top people Helmut Marko and Christian Horner. Marko also said again on Sunday that Pérez had "had bad luck".
There are no worries, because Verstappen continues to win almost continuously and with his four hundred points Red Bull would eventually also win the constructors' title solo. He actually already did that in Japan, although Pérez's points obviously count. But Verstappen is so dominant that it doesn't matter what his teammate thinks about it.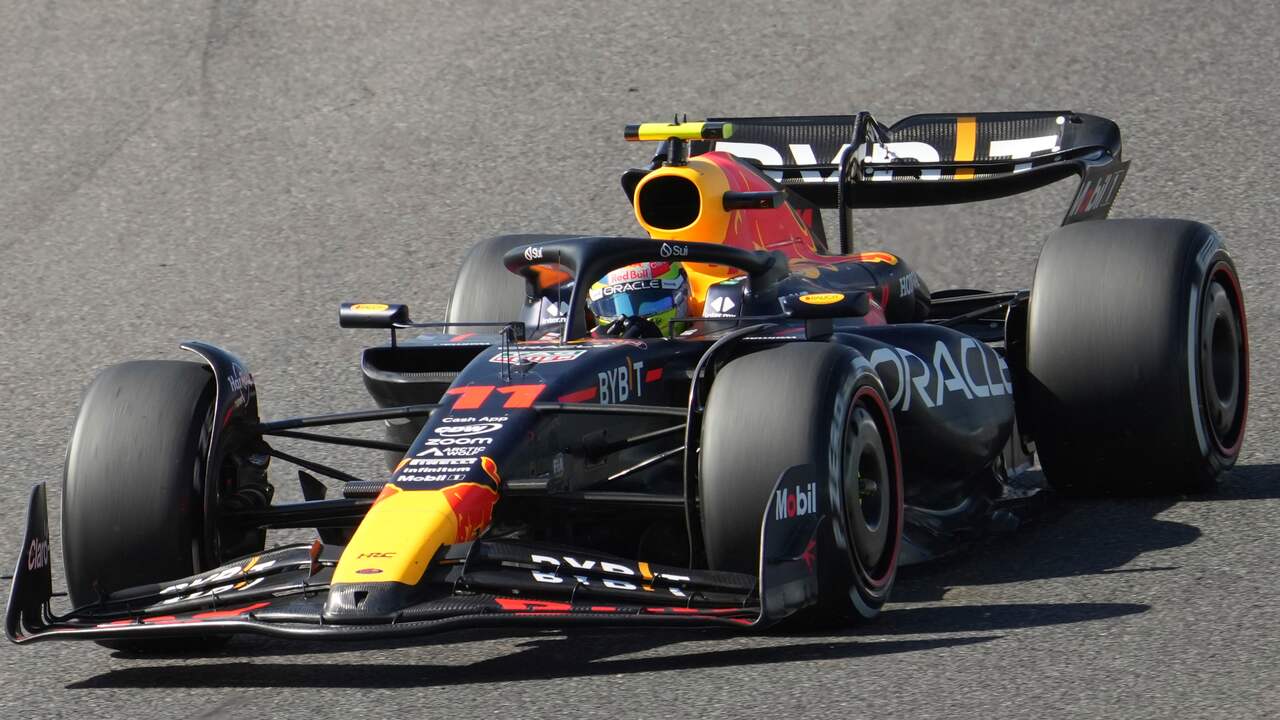 1:16Play button
McLaren has started the upward trend
There are no guarantees that this will be possible again next season. McLaren was no match for Verstappen on Sunday, but is clearly on the upward trend. Every update is a hit for the team of Lando Norris and Oscar Piastri. Mercedes and Ferrari previously announced that the concept will be changed for 2024, of course more along the lines of Red Bull. McLaren has already deployed this.
Red Bull now still enjoys an advantage, although this actually only applies to Verstappen. Pérez already failed to finish on the podium in half of the races. He was only first or second in six of the sixteen races, in the other ten the Mexican had to tolerate at least one driver other than Verstappen or he dropped out.
Ultimately, the constructor's title will be at stake
If the competition actually comes closer, Pérez will become a vulnerability for Red Bull and the constructors' title will be at stake. That title was celebrated exuberantly on Sunday. Constructors find the team championship really important. Moreover, it simply makes money.
Apart from that, when there is more opposition, it also comes down to more strategy and teamwork. Pérez played a starring role several times in 2021 with his defensive work, but in his current form the question is whether he can still do that. Pérez finished second only twice in the last eleven races (Spa and Monza), on tracks where Red Bull really had a superior speed. If things get a little more difficult, the 33-year-old driver will quickly drown.
A ready-made successor is not ready
The fact that Red Bull is now not dependent on his results gives Pérez relief, but the lack of ready-made successors may also be his salvation. Still, it might be worth it for the team to give Yuki Tsunoda a chance, or to see if Daniel Ricciardo can really still do it. All top talents are already secured elsewhere. For example, Piastri extended his contract with McLaren this weekend.
But Red Bull itself is also known for its strong training program, of which Tsunoda and Liam Lawson are now the most important representatives. In previous years, those in the main team were ultimately thrown to the lions. That may fail, but it is a smaller risk than continuing with Pérez. His performance has been going downhill for quite some time. And that will eventually become expensive.
---
---