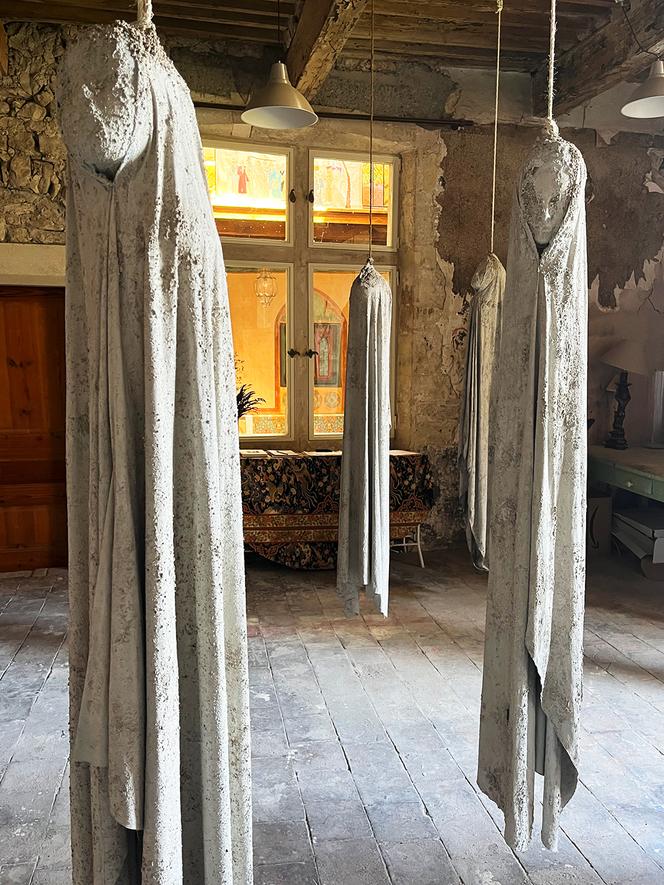 Sadaf Ahmadi's sculptures were exhibited in Forcalquier, France, in 2023. SADAF AHMADI
She is still in shock, stunned by this decision. And once again feels hovering above her this "shadow" which has always haunted her and from which she thought she would finally be freed by leaving Iran. Three years ago, Sadaf Ahmadi emigrated to Sweden with her husband. Since then, the artist born in Tehran in 1985 has lived in Borås, a town of one hundred and fourteen thousand inhabitants, about sixty kilometers east of Gothenburg. On September 16, the first anniversary of Mahsa Amini's death in Iran, she was to present two exhibitions at the cultural center. But, ten days before the opening, the municipality decided to cancel one, for security reasons.
The banned works consist of around ten faces of veiled women, sculpted in concrete and hung from the ceiling using a wire. In an interview with the local newspaper Borås Tidning, the director of culture, Ida Burén, justified her decision by "the general security situation" in Sweden. On August 17, the intelligence services raised the terrorist alert level from three to four, on a scale of five levels. A few days earlier, Al-Qaeda had encouraged Muslims in Europe to "take revenge" against the Scandinavian kingdom for the Korans that had been burned there since the start of the year.
In this context, explained Ida Burén, the fact that the exhibition has "a religious motive, since it is a Muslim garment, risks leading to the work being interpreted in the same way as the book burnings of the Quran or associated with it. Her colleagues in charge of security had also noted "the explosive potential" of the work, she asserted.
The symbolic charge of concrete
Reached by telephone, Sadaf Ahmadi confides her sadness and her anger. "I felt like I was in Iran. It is the same censorship, justified by the same arguments, according to which certain things are not acceptable because they can hurt believers. Many Iranian artists are in prison because they exercised their freedom of expression and defied this censorship. But I didn't expect such a reaction from Sweden. »
In Iran, Sadaf Ahmadi studied cinema, then worked as an actress and directed several short films in which she denounced violations of women's rights. In exile in Sweden, not understanding the language of her host country, she told herself that she would have to find another artistic language. While working as a service agent in a school in Borås, she began to take an interest in concrete, a material that she likes, without really being able to explain why, although aware of its symbolic charge.
You have 50.51% of this article left to read. The rest is reserved for subscribers.
---
---