Sep 23, 2023 at 12:14 AM Update: 11 minutes ago
The fire brigade spent the entire night from Friday to Saturday extinguishing the fire that broke out at waste processor AVR in Rotterdam on Thursday morning. The safety region is hopeful that they will be able to complete the extinguishing on Saturday.
The fire broke out on Thursday around 7:30 am in the warehouse of the waste processor on Professor Gerbrandyweg in Botlek. The staff present was able to get away on time. There were no injuries.
The fire brigade reported on Thursday afternoon that the fire was under control, but the fire flared up again during the evening.
Firefighters began demolishing the sides of the building on Friday to better reach the fire raging in the building's walls.
According to the spokesperson for the safety region, there were still several sources of fire in the building on Friday evening. The fire brigade now knows exactly where these fires are located.
Sep 22, 2023 at 4:43 pm
Advice to local residents in Rotterdam fire: be careful with eggs or vegetables from your own garden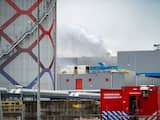 Sep 22, 2023 at 11:25 am
After 24 hours, the fire brigade is still busy with a difficult fire in the Botlek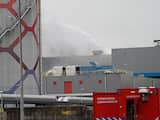 Read more about:
Rotterdam Domestic
---
---