The Walt Disney Company is blowing out 100 candles this year! To celebrate, the studio is releasing an Original short film: In Once Upon a Studio (2023), animated characters from various films from the past 100 years come together. The nostalgic film can be viewed on Disney+ from next month, and under the motto "whose birthday is a treat", the studio has already shared the trailer.
Group photo
In Once Upon a Studio, an ensemble of beloved characters from Walt Disney Animation Studios gather to take a group photo in honor of the Walt Disney Company's 100th anniversary. Featuring 543 characters from more than 85 feature films and shorts, the film welcomes heroes and villains, princes and princesses, sidekicks and wizards. Featuring brand new hand-drawn and digital animation, the film celebrates ten decades of storytelling, creativity and technological achievement.
Original voices
About 40 voice actors have returned for the short film, including Paige O'Hara as the voice of Belle in Beauty and the Beast (1991) and Jodi Benson, the original voice of Ariel The Little Mermaid (1989). Also Dwayne Johnson as Maui van Vaiana (2016) and Josh Gad as Olaf van Frozen (2013) participate in the project. The short film was written and directed by Dan Abraham and Trent Correy. They previously directed the short film together Once Upon a Snowman (2020). Abraham also worked as a storyboard artist on films such as Charm (2021) in Tinker Bell: Secret of the Wings (2012). Trent worked as an animator on Frozen and Moana, among others.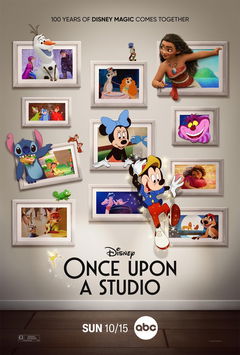 Once Upon a Studio (2023)
Watch on Disney+ • When two new employees spend the night at Walt Disney Animation Studios, they will see all the Disney characters past and present come to life, and they are all gathered for their 100th birthday photoshoot.
Once Upon a Studio will be shown on the exact anniversary of The Walt Disney Company: October 16 the short film will be released on Disney+.
Beeld: Still 'Once Upon a Studio' via The Walt Disney Company. ©2023 Disney Enterprises, Inc.
---