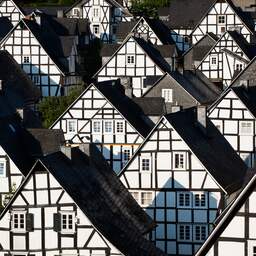 Sep 22, 2023 at 12:01 Update: 3 minutes ago
These are good times for those who want to buy a house in Germany. Prices in our eastern neighbors have fallen by 9.9 percent in one year. It is the largest decline since measurements began in 2000.
Prices are falling mainly due to increased interest rates. This allows home buyers to get a lower mortgage and therefore offer less.
Prices fell, especially in large cities. For example, Germans paid 12.6 percent less for a family home in Berlin or Hamburg, for example, in the second quarter, reports the German statistics agency Destatis.
An apartment in those cities fell in price by an average of about 9.8 percent. The decline was somewhat less significant in sparsely populated areas.
Get notified of new stories Stay informed with notifications
Also much fewer building permits
The number of permits for new homes has also fallen. For example, 27 percent fewer building permits were issued for apartments in the first six months than a year earlier.
Prices in the Netherlands have fallen less rapidly in the past year. Last month, buyers paid on average 5 percent less for a house than a year earlier. However, prices have risen slightly since May.
Beeld: Getty Images
Read more about:
Housing marketEconomy
---
---