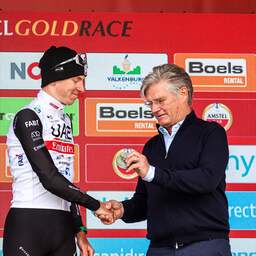 Sep 21, 2023 at 11:27 AM Update: 10 minutes ago
Leo van Vliet will retire as race director of the Amstel Gold Race in 2026. The organization of the Dutch classic will be in the hands of Flanders Classics.
Van Vliet took over the position in 1996 from Herman Krott, who had organized thirty editions at the time. "I am now approaching that number," says Van Vliet. "By 2026 I will also have thirty to my name. That seems like a great time to stop."
The almost 68-year-old Van Vliet will remain the face of the Amstel Gold Race as race director in the coming editions. The former cyclist will at the same time work closely with Flanders Classics for a smooth transfer in 2026.
"In all these years, organizing a cycling race has become more complicated," says Van Vliet. "Flanders Classics has proven itself as a high-quality organizer. It is at least as important that they have the same passion for cycling."
"These two qualities ensure that I can confidently hand over my beloved Amstel Gold Race to them. But I have not left yet," Van Vliet emphasizes.
Flanders Classic organizes classics such as the Tour of Flanders. Leontien van Moorsel remains race director of the women's race, which was won this year by Demi Vollering. Tadej Pogacar won the men's competition.
Image: ANP
Read more about:
CyclingLeo van VlietAmstel Gold Race
---
---