Sep 20, 2023 at 10:57 am
More people have not paid their fixed costs on time this year compared to last year. This concerns an increase in outstanding bills for, among other things, health insurance premiums and energy.
In the first six months of 2023, municipalities received 3.8 signals per month that there was arrears in payments per thousand inhabitants. This is evident from the Early Debt Signaling Monitor of Divosa, the association of managers in the social domain. A year earlier there were still 3.3.
Converted, this means that a municipality with 50,000 inhabitants receives 190 signals of payment arrears every month, while last year there were 165 signals.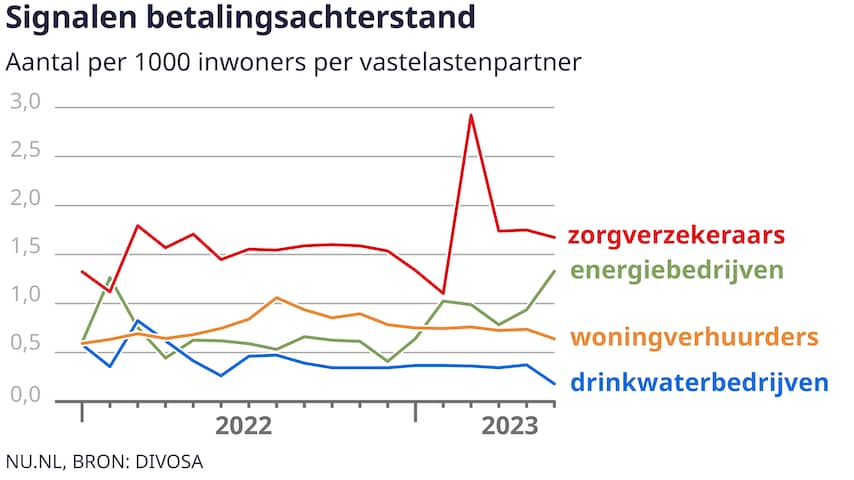 Healthcare premiums and energy were more difficult to cough up
Health insurers saw a peak in outstanding bills in March, when the payment deadline for January bills had expired. All people who want to pay for a longer period will receive a payment request for a quarter, six months or year in January. A year earlier there was also a peak in the spring, but not nearly as high as this year.
Energy companies also saw the number of unpaid bills rise. As of January 1, various support measures for households to keep energy bills affordable ended, Divosa explains. In addition, since December 1, energy companies have been allowed to make a report after thirty days. Previously this was only after fifty days.
The number of reported rental arrears actually decreased somewhat this year. Last year, 23 percent of the signals concerned rent arrears, this year that was still 19 percent. At drinking water companies, the number of unpaid bills remained constant.
Debts are not rising yet
Divosa researchers saw no increase in the amounts still to be paid. 36 percent of the outstanding bills involved an amount between 250 and 500 euros. Just like last year, that is the largest category.
Since 2021, municipalities have been legally obliged to approach residents with payment arrears in a timely manner with an offer of debt assistance. Divosa's monitor maps these efforts by municipalities.
The number of municipalities participating in the monitor is 256, accounting for 85 percent of the population.
---
---