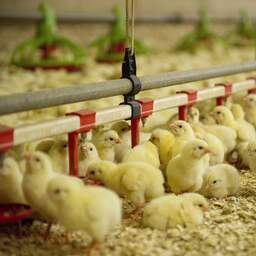 Sep 18, 2023 at 5:46 pm
A trial of vaccinating poultry against bird flu started on Monday. As part of the trial, 1,800 chicks will receive an injection. This should show whether the two vaccines that proved effective in the laboratory also work in practice.
The trial starts with so-called day-old chicks, reports the Ministry of Agriculture, Nature and Food Quality (LNV). This means that the chicks receive an injection on the day they hatch. That is not unusual. Large-scale vaccination against Marek's disease, a common disease in poultry, is already being carried out on the first day.
The field trial, which is being carried out on behalf of the Ministry of Agriculture, Nature and Food Quality, is the first of its kind in the Netherlands. It should be the prelude to a large-scale vaccination campaign for poultry. If the vaccines are effective in practice, a vaccination pilot should start at a larger number of poultry farms in the second quarter. The injection should not only protect the animals against symptoms of illness, but above all ensure that the bird flu virus does not spread.
Wageningen University & Research (WUR), Royal GD (Animal Health Service) and the Faculty of Veterinary Medicine of Utrecht University are conducting the trial at two companies. The study will run until the third quarter of 2025, but the first results are expected sometime between April and June of next year.
Because vaccines that are not yet authorized in the EU are used during the field trial, the meat or eggs from the chickens will not be available in stores.
Normally bird flu disappears in the summer, but between October 2021 and July 2023 bird flu continued to have a grip on the Netherlands. The obligation to stay in a cage that was in place for some time was recently withdrawn. In recent months, millions of chickens, ducks and turkeys have been killed to limit further spread of the virus.
---
---