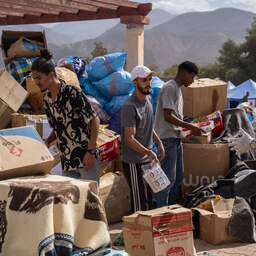 Problems for the Dutch Najiba Foundation. The charity is committed to helping the victims of the earthquake in Morocco. But because Najiba does not comply with certain rules according to ING, the foundation's bank account is in danger of being closed. The FD writes this on Sunday.
The Najiba Foundation is part of the larger fundraising campaign that comedian Najb Amhali started this week. Najiba raised 900,000 euros in recent days. But the Financieel Dagblad writes that ING has announced that it will close the Najiba Foundation's bank account as of October 28 this year.
ING told the FD that it cannot speak about individual customers. But the newspaper concludes after research that the problems are related to the banking rules that are intended to combat money laundering and terrorist financing.
Najiba would not comply with those rules because it has a shaky administration and unreliable accountant. While the aid continues in Morocco itself, the foundation is contesting the bank's decision with lawyers in the Netherlands.
Because other banks would refuse the foundation as a new customer, the charity cannot continue. "If ING closes that bank account, it will mean the end for the foundation," a lawyer for the Najiba foundation told the FD. The lawyer is considering applying for summary proceedings if the foundation and bank cannot reach an agreement.
---
---