A record number of migrants arrived on the Italian island of Lampedusa last week. At its peak, there were 6,800 at the arrival center, while there was room for 400. This summer the reception center was more often overcrowded. What does that have to do with?
A total of around 126,000 migrants arrived in Italy last year. That is almost double compared to the previous year. Many migrants crossing from Tunisia arrive at Lampedusa, an Italian island located 190 kilometers from the Tunisian coastal city of Sfax.
The mayor of Lampedusa, which has around 6,500 inhabitants, sounded the alarm on Wednesday. So there were more migrants than residents at that time.
Peak in the number of migrants in Lampedusa due to several factors
NU.nl spoke about it with Mark Akkerman. He is a migration expert and researcher at Stop Arms Trade and the Transnational Institute. According to him, extreme crowds in Lampedusa do not have to do with a shift in migration routes. An increase can also be seen on other routes to Europe.
According to Akkerman, the popularity of Lampedusa as an arrival point has to do with a combination of factors. Most migrants who cross to the European Union do so from Tunisia. Lampedusa is closer than the Italian mainland, making it a logical arrival point.
The peak in the number of boat people during the summer may also be related to the weather conditions. Bad weather prior to the summer months can temporarily result in fewer migrants. As soon as the weather is better and the sea calmer, they make the crossing. It may also be that, with autumn and winter approaching, many migrants want to avoid the upcoming bad weather.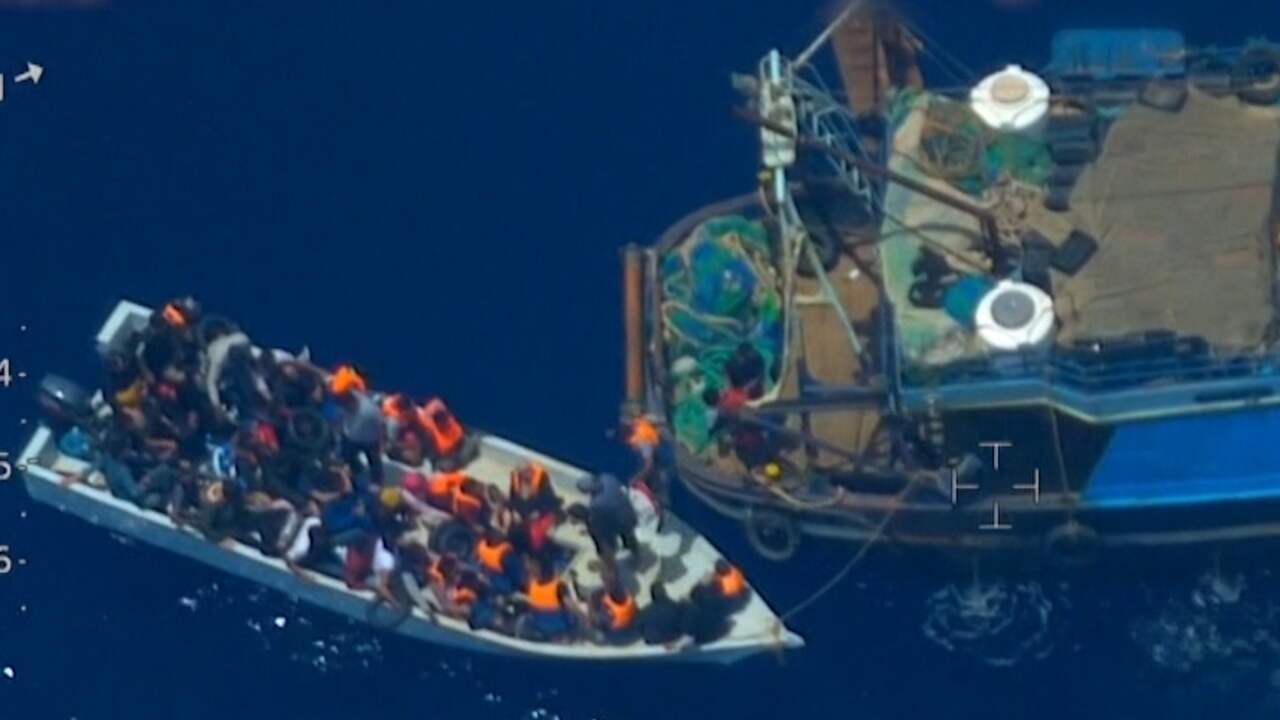 1:10Play button
Bad situation in Tunisia also reason for crossing
Furthermore, the poor situation in Tunisia may be a 'push factor', causing more migrants to feel forced to cross. The North African country is experiencing severe repression, an economic crisis and migrants experience discrimination.
In a speech at a National Security Council meeting in February, Tunisian President Kais Saied said that "hordes of illegal migrants from Sub-Saharan Africa" ​​had arrived in Tunisia. Those statements led to "violence, crime and unacceptable practices", writes human rights organization Amnesty. In response, gangs took to the streets and attacked migrants, students and asylum seekers of color. Dozens of people were also arrested and deported.
On Sunday, about 500 African migrants were removed from a square in the center of the city of Sfax by Tunisian security forces. They were chased from their homes in early July. According to a spokesperson for the Tunisian NGO FTDES (Tunisian Forum for Economic and Social Rights), the migrants were taken "in small groups to the countryside and other cities" after the square was cleared.
Tunisian authorities reported that nearly two hundred migrants were also arrested this weekend as they "prepared for the illegal boat journey" to Europe.
Receive notifications for news about migration Stay informed with notifications
'Outsourcing border control worsens the situation'
Cooperation deals that the EU has concluded with North African countries such as Morocco, Libya, Egypt and Tunisia are another push factor, according to Akkerman. These countries will receive tens to hundreds of millions and new border control equipment to prevent refugees from heading to Europe, Akkerman said.
For example, two months ago, EC President Ursula von der Leyen, outgoing Prime Minister Mark Rutte and his Italian colleague Giorgia Meloni concluded a deal with Tunisia worth 1 billion euros to combat life-threatening human smuggling across the Mediterranean.
But outsourcing border control only worsens the situation, especially when it comes to deals with authoritarian regimes. According to critics, Tunisian President Kais Saied shows signs of a dictator. Improving human rights was not a condition of the deal and will therefore most likely lead to a worsening of the situation for migrants in Tunisia and therefore more boat people trying to reach Europe.
Von der Leyen visited Lampedusa together with Meloni on Sunday, where the EC president announced a step-by-step plan to help Italy with the increase in the number of migrants. One of the ten points of the step-by-step plan concerns the European border guard Frontex, which will help identify and possibly return migrants.
---
---