A year ago, top volleyball player Celeste Plak doubted whether she would return to the Dutch team. Now, under the leadership of national coach Felix Kozlowski, she is one of the key players of the team, which won European Championship bronze this month and will compete for an Olympic ticket from Saturday.
After her umpteenth point in the bronze European Championship match against Italy, Plak screams out. After a hard smash, she runs to the sideline and jumps up to Kozlowski, the national coach who has created new impetus for the Dutch volleyball team.
A year ago, it was no certainty that Plak would be one of the standout players for the Dutch team in the pre-Olympic year. But at the European Championships, her energy, power and will to win shine again.
After a disappointing World Cup in his own country, where the Dutch team was eliminated in the second round, Plak wanted to leave the Dutch team behind him. She flew back to Japan, where she had already played club volleyball with Victorina Himeji for a year. She didn't know whether she would return to the Dutch team.
"I blocked everything and flew to the other side of the world," says Plak in conversation with NU.nl. "I became much more patient in Japan. I had to rely solely on myself there."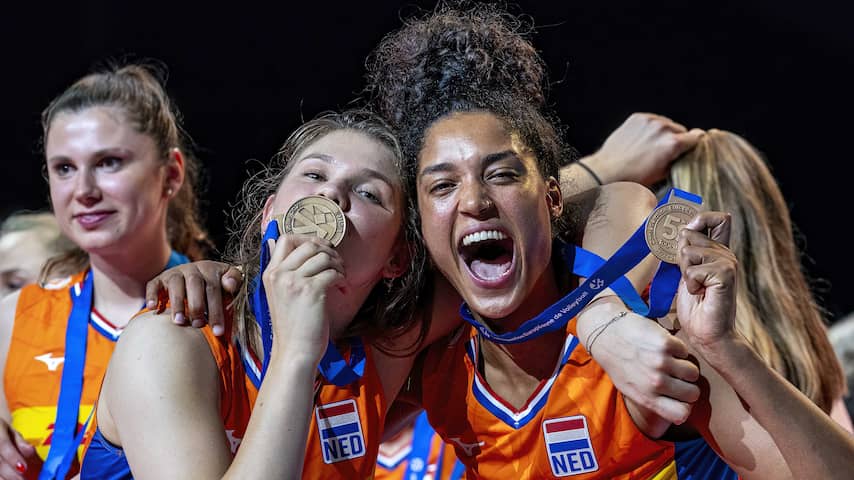 Delirious joy for Plak and teammate Eline Timmerman after winning European Championship bronze. Photo: Getty Images
Learn Japanese and become zen
Plak took Japanese lessons and learned to be zen instead of angry in the field. After a while, she even had a conversation in Japanese with five Japanese schoolgirls on the train. "I can still remember that moment. That was really cool and so special."
While Plak enjoyed a different culture and volleyball world in Japan, Dutch national coach Avital Selinger resigned. The name of Kozlowski, 25 years her junior, was soon circulated as a successor and that immediately aroused her interest.
Plak returned to Papendal in the run-up to a packed and important volleyball summer, had a good conversation with the coach and was immediately enthusiastic. After a few training sessions she knew: "These are without a doubt my more enjoyable years at Oranje."
CV Celeste Plak
Age: 27 years (October 26, 1995) Place of birth: Tuitjenhorn Position: Diagonal (formerly also a passer-runner) Achievements with the Dutch team: European Championship silver (2015 and 2017), European Championship bronze (2023), fourth at the World Cup (2018), fourth at OS (2016)
'We no longer see each other as competitors'
The team feeling under Kozlowski immediately appealed to Plak. Under national coach Selinger, the Dutch team was divided into a so-called A and B group.
The volleyball players from group A were assured of a place in the selection, but in group B you had to fight for a place. A lot has changed since the arrival of the German coach.
"Now everyone gets a chance. We no longer see each other as competitors," Plak explains. "Everyone is important. Whether you are sitting on the bench, in the field or in the office. Everyone is equal."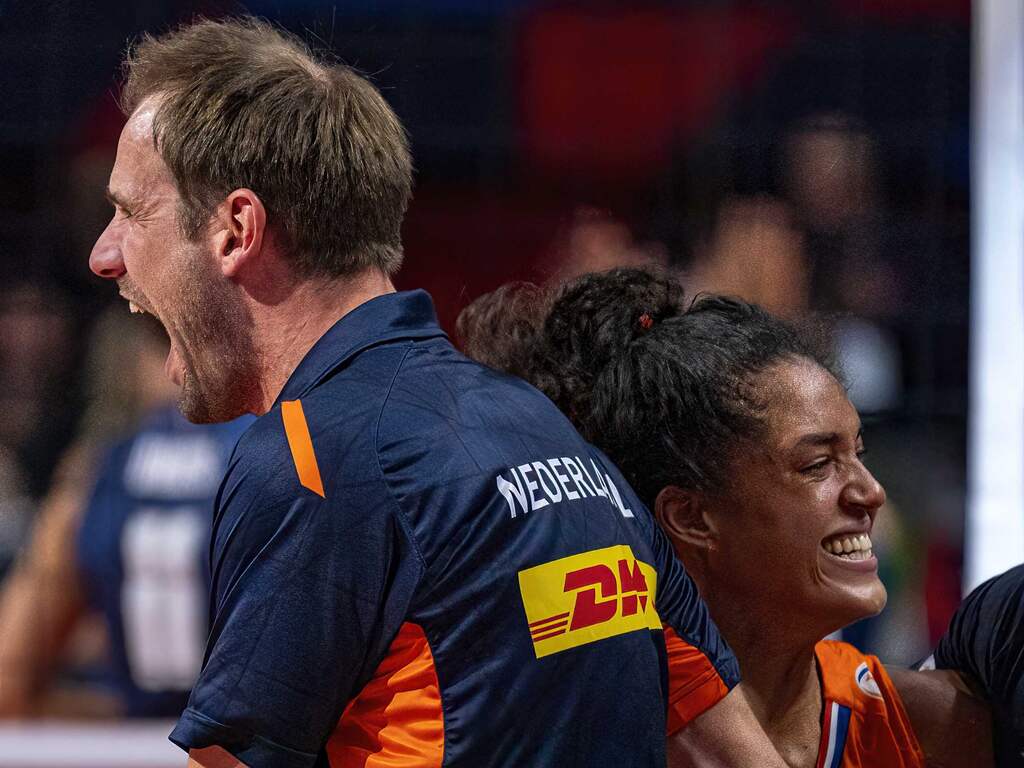 Plak embraces Koslowski after the European Championship stunt against Italy. Photo: ANP
'Sometimes top sport seems like an endless tunnel'
Plak, only 27, had already had doubts about her international career before. In 2020, she decided to take a sabbatical after ten years of top volleyball.
In 2010, she started with the Dutch Juniors as a thirteen-year-old, after which she made her debut in the first team in 2013. "Let's say you have been doing top sport for fifteen years. In your entire life that is a very short period. But when you are in it, it sometimes seems like an endless tunnel," she explains.
Plak comes out of her necessary break stronger and learns that you play better volleyball if you really enjoy it. That idea fits in seamlessly with the vision of the new national coach Kozlowski.
"There is now a healthier balance at Oranje. There is room for fun, for a drink. And those who have fun perform better," says Plak. "But when the finger is snapped, the focus is immediately there."
OKT volleyball program
September 16, 10 a.m.: Netherlands-Canada September 17, 4 a.m.: Netherlands-Czech Republic September 19, 10 a.m.: Netherlands-Mexico September 20, 4 a.m.: Netherlands-Ukraine September 22, 1:30 p.m.: China-Netherlands September 23, 10 a.m. : Serbia-Netherlands September 24, 10 a.m.: Dominican Republic-Netherlands
The matches are played in China. This schedule shows the Dutch times.
'How great would it be if it worked in one go'
Under Kozlovsky, Plak is finally gaining clarity about her position. Where she used to be "thrown from left to right" on the field, she is now only a diagonal player.
And that choice pays off. The 1.90 meter tall Plak scored no fewer than 94 points at the European Championships. She seems to be in better shape than ever and that is good now that the Dutch start the Olympic qualifying tournament in Ningbo, China on Saturday.
"How great would it be if we managed to qualify for the Games in one go?" says Plak with a big grin on her face. "And if that doesn't work, there's nothing to lose. Because we also have a good chance through the world rankings. We have to perform, but everything always starts with fun."
This way the volleyball players can qualify for the Games
Twelve countries are allowed to participate in the Olympic Games. France has already been placed as the host country. Six teams qualify via the OKT. The tournament in China (September 16-24) consists of three groups of eight countries. The top two in each group receive an Olympic ticket. The remaining five tickets will be distributed based on the world rankings. This will be drawn up in June 2024, after the group stage of the Nations League. First they look at the high-ranking countries per continent that do not yet have a ticket. Once all continents are represented, the highest-ranking countries receive the remaining tickets. The Netherlands is now ninth.
---
---