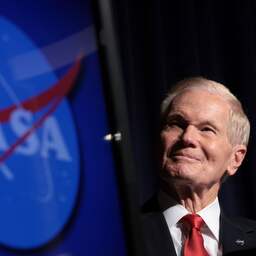 15 Sep 2023 at 00:36
Space agency NASA has appointed a new director for UFO research. The announcement follows a recommendation to conduct more research into the extraterrestrial. The name of the researcher remains secret due to possible threats.
A group of scientists presented a report on Thursday on an investigation into hundreds of UFO sightings. This research was started last year on behalf of NASA.
The researchers found no evidence to suggest that the UFO sightings were related to aliens. Although they did not know where the UFOs came from.
As a result, the researchers considered further research into extraterrestrial life valuable. "The key takeaway is that there is much more to learn," said NASA administrator Bill Nelson.
The space organization has therefore decided to pay more attention to the subject. Part of this involves appointing a new head of UFO research. The director further promised transparency from NASA in their further investigation. "Whatever we find, you will hear from us," Nelson promised.
The driver himself was also asked for his opinion on the possible existence of aliens. "If you ask me if I believe there is life in a universe so big that it's hard to understand how big it is, my personal answer is 'yes,'" the driver said.
Beeld: Getty Images
Read more about:
Universe and space travelScience
---
---