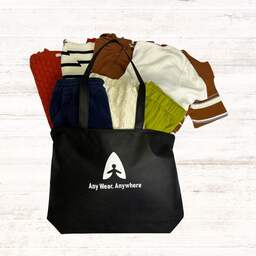 Sep 12, 2023 at 1:45 PM Update: 4 minutes ago
Japan Airlines passengers can now rent a clothing package that is ready for them in Japan, writes CNN. This means that holidaymakers need to take fewer kilos of luggage with them, meaning the plane uses less fuel.
Travelers carry around 10 kilos of clothing on a flying holiday, estimates initiator Miho Moriya. With the company Any Wear, Anywhere, Moriya hopes to ensure that fewer kilos need to be taken on board the plane. Japan Airlines says that lighter aircraft lead to fewer emissions.
Travelers can reserve a clothing package two weeks in advance, which will be prepared at a hotel or Airbnb location of their choice. There are packages available for rent in different styles and sizes. That costs a maximum of $48 for two weeks.
According to Moriya, many applications are already coming in, especially from the United States and Australia. The question is whether the experiment, which will run until August 2024, will make a demonstrable difference in the fuel consumption of aircraft.
Beeld: Any Wear, Anywhere
Read more about:
NoteworthyJapanEconomyAviation
---
---