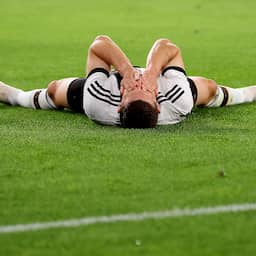 Sep 9, 2023 at 10:44 PM Update: 3 minutes ago
More than a year before the European Championship in their own country, the German team is in a major crisis. The team of national coach Hansi Flick has been without a win for four games and suffered a hard defeat against Japan on Saturday, partly due to a goal from Ayase Ueda in a practice match: 1-4.
Due to the dramatic series, the pressure was on for national coach Flick and he did not calm down much from the start. After just twelve minutes, Japan reached 0-1 in the Volkswagen Arena via Junya Ito, where the dissatisfaction was clearly audible.
Eight minutes after the opening goal, Leroy Sané leveled the score, but Flick and the German fans could not enjoy it for long. Feyenoord striker Ueda was in exactly the right place three minutes later to score the 1-2.
The goal by Feyenoord's reserve only increased criticism of the German team, which made a lackluster impression and only shot twice on goal. Japan had less possession of the ball, but was significantly more dangerous in transition.
It even led to a very painful result for Germany in the final phase. Takuma Asano made it 1-3 in the ninetieth minute and shortly afterwards Ao Tanaka even made it 1-4. After that goal, the stadium in Wolfsburg emptied with disappointed fans.
Last five international matches for Germany
Germany-Belgium 2-3 Germany-Ukraine 3-3 Poelen-Germany 1-0 Germany-Colombia 0-2 Germany-Japan 1-4
Flick continues under pressure
The new defeat will further shake the position of national coach Flick. The former coach of Bayern Munich was already under fire after the disappointing World Cup, where Germany was eliminated in the group stage.
Germany will not play any qualifying matches this year because, as the organizing country, it is already certain of participation in next year's European Championship. The three-time European champion will play another practice match on Tuesday: at home against France.
The Netherlands is currently working on European Championship qualification for next year's tournament in Germany. The team of national coach Ronald Koeman will kick off their visit to Ireland on Sunday at 8.45 pm.
Beeld: Getty Images
Read more about:
German teamJapanese teamFootball
---
---