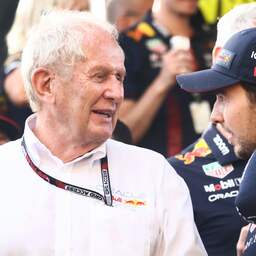 Sep 8, 2023 at 7:16 PM Update: 3 minutes ago
Helmut Marko apologized on Friday for his comments about Sergio Pérez. The Red Bull Racing CEO said earlier this week that his driver's inconsistent performance has to do with his South American background.
"He is South American and just not as fully focused in his head as Max Verstappen or Sebastian Vettel," 80-year-old Marko said in a program on the Austrian channel ServusTV.
Following that comment, a storm of criticism erupted against Marko, who previously stated that his statements were not useful. He has now responded in more detail to his statements on the ServusTV website.
"I would like to apologize for my offensive comment," Marko wrote. "I want to make it clear that I don't think we can generalize about the people of any country, of any race and of any ethnicity. I was trying to make it clear that Checo (Sergio Pérez, ed.) fluctuates in his performance, but it was wrong to attribute this to his cultural background."
Pérez has been driving for Red Bull since 2021, but is having a difficult time this year. Although the Mexican won two Grands Prix early in the year, he did not come close to the performance of his teammate Max Verstappen. Last weekend he finished second in the Italian Grand Prix, behind Verstappen.
Pérez's contract with Red Bull runs until the end of next racing season. The driver spoke out about his contract situation after last weekend's Grand Prix. "With the season we have had so far, it is important that I also feel that I can contribute in the coming races. At the moment my main focus is on Red Bull."
Beeld: Getty Images
Read more about:
Formule 1Red Bull RacingMax VerstappenSergio PérezHelmut Marko
---
---