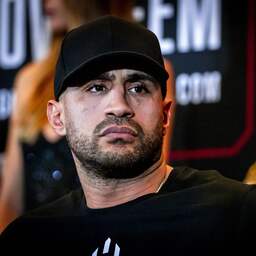 Sep 8, 2023 at 2:34 PM Update: 2 minutes ago
Badr Hari attended a press conference on Friday to preview his GLORY fight with Englishman James McSweeney, but at the same time did not feel like answering questions. The kickboxer returns to the ring on Saturday after almost a year.
The 38-year-old Hari made an emotional impression behind the press conference table in Paris. It was unclear what exactly was going on. "I don't feel like answering questions today. You can ask James anything," Hari said after being asked a first question by a journalist.
It was not a certainty that Hari would return to the ring at all. Hari last played in October last year. The Dutch Moroccan then lost to Alistair Overeem in the GelreDome and suffered his seventh defeat in a row. Afterwards he openly thought about quitting.
Shortly after it was announced, Hari wanted to explain why he decided to continue. "I just love to fight. Sometimes you feel like something isn't ready yet. I still have it in me and I'm looking forward to stepping into the ring tomorrow."
'I don't care about the Grand Prix'
The winner of Saturday's race will qualify for the GLORY Grand Prix. "But I don't care about that Grand Prix," said Hari. "I just want to win my fight tomorrow, that's all."
Hari also did not want to say anything about his opponent McSweeney. "It's a personal fight for me and it has nothing to do with my opponent. It doesn't matter to me who my opponent is."
Hari will face McSweeney for the 126th time in his career in the kickboxing ring. He recorded 106 victories, 92 of which were by knockout. 'The Golden Boy' has now been without a victory since 2015. The fight between Hari and McSweeney starts on Saturday around 9 p.m.
Image: ANP
Read more about:
Badr HariKickboxenGLORY
---
---