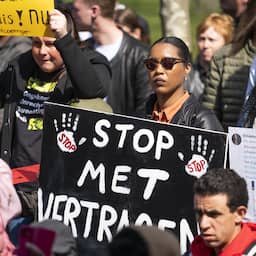 07 Sep 2023 at 18:36
Victims of the benefits scandal have to wait far too long for their complaints to be dealt with. That is why the outgoing cabinet intervenes and the organization of the settlement committee is overhauled.
The chairman of the Actual Damage Committee (CWS), Jessica Hoitink, must make way. Her successor will be tasked with reshaping the committee, outgoing State Secretary Aukje de Vries (Benefits) reports to the House of Representatives.
The CWS must ensure that those affected by the childcare allowance scandal are adequately compensated, but the current working method appears to be too slow. Many affected parents appeal the results because they disagree with the findings. This causes further delays in processing.
The queue at the CWS increased instead of decreasing and now has approximately 1,350 parents. And although the organization has doubled in capacity, the number of files handled only decreased. Of the parents who receive a decision, half appeal against it, "which further burdens the recovery operation."
According to State Secretary De Vries, there will be an operational director for the CWS, "who will improve the effectiveness of the organization". There will be fewer employees who will work more hours. This should improve efficiency.
In the meantime, the parliamentary inquiry committee on Fraud Policy and Services is busy with hearings about the policy behind the benefits scandal.
Image: ANP
Read more about:
Benefits scandal
---
---