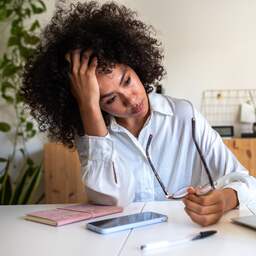 More and more young people are suffering from burnout complaints. NU.nl asked experts how you can recognize these complaints, and more importantly: prevent them. "It depends on being honest about your weaker sides."
Stress is part of it, both at work and outside of it. Only if you can no longer relax after a stressful period is that a sign that you need to take it easy, says Lidewy Hendriks, psychologist at MIND Korrelationship.
If you have a burnout, the simplest things feel like too much. Everything takes energy and you get exhausted from the smallest things. It may also be that stimuli from images or sound come in too loudly.
Because the symptoms are so varied, it is not possible to name them all, says Hendriks. "We are all different, so also in the way tension expresses itself in your body. With one person it can be in the arms, with the other in the stomach."
"In any case, it is important to consider whether you suffer a lot from stress when you don't feel well." As mentioned, stress does not always have to be bad. "Stress is healthy, as long as you alternate that feeling with periods of relaxation."
If you don't recover, that's a red flag
Only if you don't recover after a weekend of sleeping well or taking it easy, or if you feel confused for no good reason, is that a red flag. So says Nicolette Verheem, health coach and author of the soon to be published book Survival guide for burnout, sustainable recovery in 6 steps.
Furthermore, you may function less well, you have to put more effort into the same work and you make more mistakes. "That doesn't have to be bad right away, but if you notice that these complaints persist for more than a few weeks, it's time to take it easy," says Verheem.
Before you burn out, you are overstressed. "At that moment it is still possible to take a step back," says Hendriks. "If you notice that you sleep less well, that you may react somewhat emotionally, or that you are less able to laugh or be happy, try to relax."
The cause may differ per person
For example, take a day off, go to bed on time, try to take it easier on the weekend or meet up with friends. Hendriks sees that despite these signals, people do not always intervene when they notice that things are not going well.
She thinks this is because you can lose touch with your body due to that tension. "And social media doesn't help either. You only see perfect pictures of people with perfect lives there. It can quickly feel like you're the only one who's having a hard time."
If you want to prevent burnout, it is also good to tackle the cause. And that can differ per person, Verheem knows. "Young people are not only 'on' all day through social media. The performance society can also give them the feeling that they have to prove themselves. While the elderly should be less affected by this."
Learn to relax again
If you feel like a lot is expected of you, try to remember that everyone sometimes has trouble keeping up. If we are more open about this, we will be more willing to admit it, Hendriks thinks.
"Help each other temper expectations. It all boils down to being honest about your weaknesses and rottenness. Be honest if you're not feeling well or have had a bad night's sleep."
If you are no longer able to take a step back in time and you end up sick at home, it is important that you learn to relax again. "Both in your body and in your head," says Hendriks. "And that takes time. You have to start at the beginning and learn again how to listen to your body."
---
---