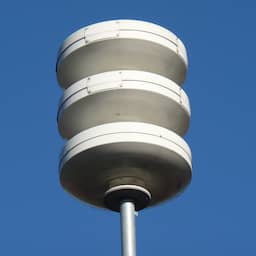 04 Sep 2023 at 17:05
The air raid alarm in Flevoland, which is supposed to go off every first Monday of the month at noon, was started 6 minutes late this Monday. This is the third time this year that this has happened in the province.
A spokesperson for the fire brigade in Flevoland confirmed this to NU.nl after reporting from Omroep Flevoland. The control room, responsible for setting the alarm, was busy on Monday afternoon with incoming calls.
They were given priority, so the air raid alarm had to wait. "That is of course not the intention, but that's how it works," says the spokesperson.
The alarm also went off a few minutes late in April and July because control room employees were busy. If there is a real emergency, this will not cause problems in the future, the spokesperson said when asked. For example, if, in the event of a very large fire, higher authorities give the order to activate the air raid siren, that will happen, he says.
In the Netherlands, the air raid siren is tested every month. This is done to check whether all equipment still works properly. The test is also intended to ensure that people recognize the alarm in the event of a disaster or major accident.
Image: NU.nl/erik neuteboom
Read more about:
Domestic
---
---