02 Sep 2023 at 05:09
Not Ferrari, but Max Verstappen's record series is the most important topic this weekend at Monza. He can be the first to win ten times in a row in Italy. Others about his qualities, and why the Limburger is already one of the greatest.
35 years ago, the Italian Grand Prix was also on the calendar at the beginning of September. It was the year of McLaren, with the iconic and extremely low MP4/4 and the dream duo of Ayrton Senna and Alain Prost behind the wheel. Monza was the twelfth destination, and McLaren had won everything up to that point. The perfect score was in sight, as is now the case for Red Bull.
But something always goes wrong. 1988 is the year in which McLaren won almost all races. Except for one, because Prost's engine gave up the ghost at Monza and race leader Senna made a mistake over laggard Jean-Louis Schlesser. To the delight of the Italian public, Ferrari inherited the victory with a one-two for Gerhard Berger and Michele Alboreto. McLaren's record streak was broken.
The lesson from that race: record streaks are perhaps the most difficult records. The ball must stay in the air. Verstappen had everything thrown at him in his nine consecutive victories. The World Cup leader himself knows when things really got difficult. "Last week in Zandvoort, with the rain, that was perhaps the most difficult moment. But we still won."
Max Verstappen in conversation with Christian Horner and Helmut Marko. Photo: Getty Images
'You shouldn't try it with rotten tomatoes'
Competitors see this happening with suspicion, but there is also appreciation. In a search for an explanation for Verstappen's success, Pierre Gasly fittingly sees the similarity with baking a pizza. "If you have all the good ingredients together, you get an excellent pizza. But you shouldn't try it with rotten tomatoes," says the Frenchman.
His point: all the good ingredients are present at Red Bull. "They have a good base, a good car and a great driver. Everyone is performing at their best at the same time. Then you get this dominance."
Sergio Pérez himself watches in the kitchen. The Mexican basically has the same chances as Verstappen. But where Pérez struggles, he sees his teammate dominate. "You just have to appreciate that. He is currently riding at an extremely high level."
It is not very realistic, but in theory Pérez can still keep his teammate from the title. It is precisely for this reason that what Verstappen lays the foundation for his record series is missing. "He can always perform at 100 percent, every weekend. It doesn't matter in what circumstances," says the 33-year-old Mexican, who often struggles himself.
"It's something that…," Pérez hesitates for a moment. "It's quite difficult to see that as a teammate, you know? It doesn't matter what happens, what margin we have or if the car goes a little slower: Max gets 100 percent out of it. Not only from the car, but also from himself. And that actually every race."
Vettel's record series ended due to the turbo engine
Verstappen now shares the record of nine victories in a row with Sebastian Vettel, who also drove for Red Bull at the time. The German's winning streak started in 2013 at race eleven at Spa-Francorchamps and ended in Brazil at Interlagos. The reason: the season was over.
The following year the turbo era began, something for which Mercedes was much better prepared than Red Bull and its engine partner Renault. Mercedes' dominant phase began. After a year of struggling in Red Bull, Vettel left for Ferrari and, after four titles in a row at Red Bull, never became world champion again.
Verstappen's own share became regularly visible
Verstappen therefore sees Zandvoort as his toughest race in the series of nine. It started in Miami and can be continued in Italy via Monaco, Spain, Canada, Austria, Great Britain, Hungary, Belgium and the Netherlands. Not all of them were equally difficult, but it wasn't easy either.
In Miami, for example, the Dutchman had to start from ninth. In Monaco, Verstappen was decisive in qualifying on Saturday with an all-or-nothing lap.
In Zandvoort, the reigning world champion himself made a strategic mistake on the intermediates. He was seconds faster than anyone else, including his own teammate. These are the moments when Verstappen's own share in the success becomes very visible.
Yet it is not just Verstappen. "The Red Bull is objectively the fastest car. They make very few mistakes and are also the fastest with pit stops," Gasly sums up.
"But Max is also very talented as a driver. And once you start winning, that confidence comes on top of the skills you already have. In addition, you also know that you are in the fastest car every weekend. You get an invincible feeling there. feeling of. Red Bull and Verstappen are currently at that point."
According to Pierre Gasly, Verstappen currently has an "invincible feeling". Photo: Getty Images
'He always performs the same'
Lando Norris is sure that Verstappen is already one of the all-time greats of the sport. "I already knew Max a little from karting, but I was always a generation below him. Since our first meeting in 2012, I have been able to see what he does. I don't think it's just about the car that he can perform like this." , says one of Verstappen's best friends in the paddock.
Norris doesn't want to hear about stories that it's all due to the car. "It doesn't matter which car you put Verstappen in, he always performs the same. Maybe with different results, but he reaches the same level. I would like to be his teammate to see if I can compete a bit with Max."
Verstappen himself emphasized extensively on Thursday that it is ultimately a team effort. Results like those of the Dutchman work as doping for Red Bull. "The motivation is sky-high," team boss Christian Horner agrees. "Everyone is very proud and is fully enjoying this golden moment."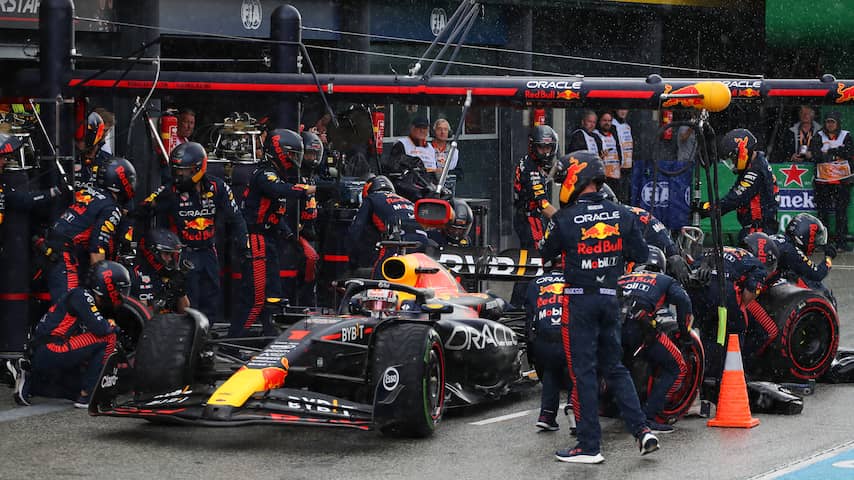 According to team boss Horner, the motivation at Red Bull is currently sky high. Photo: Getty Images
Verstappen is part of an elite group
Horner knows better than anyone that it is a team effort, but ultimately a record will be in the driver's name. That happened with Sebastian Vettel in 2013 and now again with Verstappen. His team boss effortlessly ranks the Limburger among the greatest of the sport.
"I have never worked with Juan Manuel Fangio or Jackie Stewart, but what Max does is phenomenal. He is an exceptional talent, and with his victories and world titles – hopefully one more this year – he is of course one of the biggest names."
It is an elite group of which Verstappen is actually already a part. Horner singles out one quality that you need to belong. "The elite, they are guys who adapt quickly. I think his adaptability is one of Max's best qualities. He has the confidence and quickly becomes one with the car."
Gasly increasingly sees a different quality in Verstappen. "He is so mature in his choices to take risks. You can clearly see that. Last week, for example, in Zandvoort, when he really did not go all the way on a wet track," says the Alpine driver, who himself finished third.
"He is faster, and he can also go faster if he wants, but at that moment he knows that it is under control. Then Max does not have to take the risk, he can easily give away three tenths," says Gasly. "As soon as things are more stable again, he will take off. Max is very complete and very mature in how he handles everything."
---
---