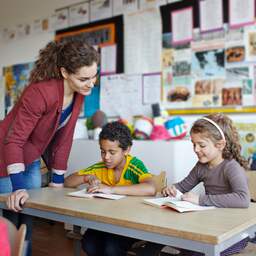 02 Sep 2023 at 09:41
About 350 primary schools have agreed not to hire expensive temporary workers or self-employed workers from this school year. They have no desire to continue paying high prices for temporary teachers. This is what Het Financieele Dagblad writes on Saturday.
The primary schools write in a manifesto that "money for children should not go to commercial agencies". There are approximately 65,000 children in all schools together.
Schools from the Randstad are also participating. This is striking, because there are major shortages there. These schools are therefore more often at the mercy of temporary workers.
A temporary worker offers a quick solution for gaps in the schedule, but often costs much more. And these temporary workers have to come from somewhere. This means that some teachers exchange their permanent job for temporary work.
Teachers who start working as self-employed
According to Tamar van Gelder, chairman of the AOb education union, teachers are forced to become self-employed if their employer offers too little flexibility. "We also see that being self-employed is often the first step back to education," she tells Het Financieele Dagblad.
To join forces against expensive temporary workers, the Aves school foundation in the Noordoostpolder started a national initiative.
"Many more schools share the frustration but were unable to sign because they are already in the stranglehold of the temporary employment sector," chairman Jos Timmermans told the newspaper.
The signatories of the manifesto promise to be better employers. For example, they promise more guidance, better leave arrangements and more attention to the employment wishes of teachers.
Get notified of new posts Stay up to date with notifications
---
---