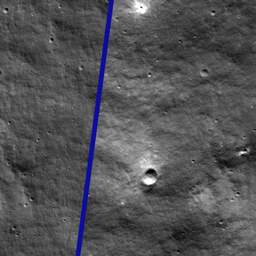 Sep 2, 2023 at 3:34 PM Update: 2 minutes ago
NASA has discovered a new crater in the moon. The American space agency states that the crater was most likely caused by a Russian lunar lander recently crashing into the moon.
The Russian lunar craft Luna-25 crashed into the moon on August 19. NASA took satellite photos of the same moon via the LRO spacecraft on August 24. Compared to previous photos from June last year, NASA discovered a new small crater.
After investigation, the LRO team concludes that the crater was most likely caused by the crash of the Russian Luna-25. A natural cause seems unlikely.
The crater is 10 meters in diameter. The NASA study shows that the crater is about 400 kilometers away from where the Russian lunar lander was actually supposed to land.
Luna-25 engines burned 43 seconds too long
The Luna-25 crashed due to an error with the engines. These would have to burn for exactly 84 seconds for the craft to enter orbit around the moon. Instead, the engines burned for 127 seconds. For example, the Luna-25 entered a lunar orbit that was too low and crashed unplanned on the lunar surface.
The last time Russia managed to land on the moon was in 1976 with the Luna-24 mission, then still known as the Soviet Union. The team behind the moon landing even came largely from Ukraine.
Besides the Soviet Union, only the United States, China and India have managed to reach the moon's surface in a careful and controlled manner.
Image: NASA
Read more about:
Universe and space travelForeignTech
---
---