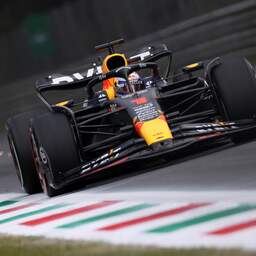 Sep 01, 2023 at 2:39 PM Update: 2 minutes ago
Max Verstappen has started the weekend in which he can set the record of ten victories in a row well. The Dutchman was just faster than Carlos Sainz in the Ferrari in the first free practice for the Italian Grand Prix. A tire experiment played a major role.
As in Hungary, each driver receives not thirteen, but eleven sets of tires for the weekend (three hard, four medium and four soft). In qualifying (in dry weather) the hard tire must also be used in Q1, in Q2 the medium tire and in Q3 the soft tire.
There was a fear beforehand that there would be little driving in the second free practice, but that was not too bad. Nevertheless, the influence of the tire rule was noticeable: the top five only drove on the hard tires and therefore also clocked the fastest times on them.
Verstappen did that in a time of 1.22.657 and was therefore 0.046 seconds faster than Sainz. Sergio Pérez was third, one tenth behind his teammate, while Charles Leclerc was fourth fastest in the second Ferrari. The Monegask was three tenths slower than Verstappen.
Top ten first workout
1. Max Verstappen (Red Bull): 1.22.6572. Carlos Sainz (Ferrari): +0.0463. Sergio Pérez (Red Bull): +0.1774. Charles Leclerc (Ferrari): +0.3095. George Russell (Mercedes): +0.5326. Fernando Alonso (Aston Martin): +0.5577. Lando Norris (McLaren): +0.5848. Lewis Hamilton (Mercedes) +0.6129. Yuki Tsunoda (AlphaTauri): +0.61410. Alexander Albon (Williams): +0.787
High speed setup suits Ferrari better
Ferrari is a lot better on the high-speed circuit in Monza than a week ago in Zandvoort. The car's setup with small wings and low drag suits the Scuderia much better.
George Russell was fifth in the Mercedes, half a second behind Verstappen. Fernando Alonso was sixth in the Aston Martin. The Spaniard was the fastest driver who did not just use the hard tyres. Alonso conceded 0.557 seconds to Verstappen on the medium tyres.
Few major incidents during first training
The training proceeded without major incidents. Striking were the Alfa Romeo drivers, who both had difficulty driving away from the piss street at the start of training. Things went better for the Swiss team later this weekend, which is running in a special livery this weekend to honor a new model from the main sponsor and namesake.
World Cup leader Verstappen is trying to win his tenth race in a row on Sunday. Since his victory in Zandvoort last weekend, the Dutchman shares the record for most wins in a row with Sebastian Vettel.
---
---