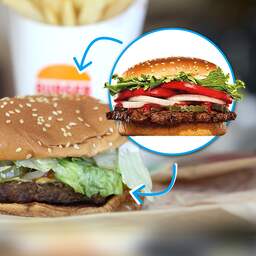 By our economics editors
Aug 30, 2023 at 3:29 PM Update: 4 minutes ago
Burger King has to answer in court for its images of the Whopper. The beef burger looks richer in advertisements than it actually is, say outraged customers of the fast food chain.
According to the prosecutors, the Whopper appears 35 percent larger in images of Burger King. It would also contain only half as much meat as the advertisements promise. There the hamburger bulges over the edge of the bun.
A US judge has decided to take up the case. Burger King has been sued for misleading customers.
The company denies the allegation. The Whopper in the commercials would be exactly the same as the millions of burgers served to customers, Burger King said in a statement.
It is not the first time that a fast food restaurant in the US has had to appear in court. McDonald's and Taco Bell have also been sued for advertisements in which dishes appear much richer than on the customer's plate.
Beeld: picture alliance / Burger King
Read more about:
EconomieBurger King
---
---